WARNING: THIS ARTICLE CONTAINS CONTENT WHICH SOME READERS MAY FIND DISTRESSING

Matt Aguilera spoke openly and honestly about what he saw during Travis Scott's gig at his festival which was held in Houston, Texas.
Using his account (@_mattaguilera), Matt told his followers how he was close to the front of the cramped pit just in front of the VIP section.
He said: "I couldn't do it. I was so squished, I literally started having a kind of like a panic attack. I was so squished. I was so compressed against people. It was just scary, bro.
"I started freaking out so I just made my way towards the back exit... and I got to that barricade that was close to the VIP section. And that's when I climbed over.
"And as soon as I got over, I was just helping a bunch of people over because, I mean, I was one of many that couldn't do it."
Matt, who described himself as a 'big dude' went on to add: "I mean, I'm helping little girls over that are like, you know, 5'6'', 5'2'', 5'4''. I just can't even imagine like, how horrible that must have been like they really probably thought they were gonna die, which is crazy.
"I get over the fence and this girl gets helped over, but she's out cold bro, completely out. And I don't know if it was her boyfriend or whoever she was with but whoever she was with started crying like hysterically and just like, 'She's not waking up. She's not waking up, there's no pulse'.
"It's giving me chills right now thinking about this s***. But they started giving her CPR and I mean nothing bro. Literally pretty much the whole Travis performance they were giving your CPR and they're like 'Where's the paramedics? Where's the paramedics?'
"Literally it took the paramedics probably 30 minutes to get through and once they got through, they tried to do CPR on her and nothing.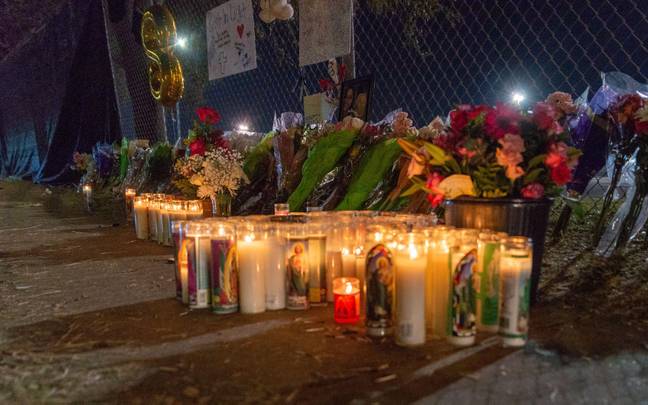 "Then they started carrying her out on a stretcher and they dropped the stretcher and her lifeless body just topples over on the ground again. And they pick her back up and put her back on the stretcher.
"It was horrible. It's so hard for me to talk about... it makes me sick. That's really all I saw. I tried to look away after that because I started feeling lightheaded when I saw that it's just something I never thought I'd see in my life."
Responding to Matt's video, one person wrote: "Pls [please] get therapy. PTSD is v real and if you don't talk to someone about this now, you're going to likely have to deal w it down the road. I'm so sorry."
Another added: "I am BEGGING for you to consider getting professional help. You seem like a tough dude but nobody should have to deal with this stuff alone."
And a third said: "I'm so sorry man. Definitely don't be afraid to ask for help to have someone walk you through your emotions."