Police Raid Mansion Belonging To 'Gang Leader' With 'Links To Pablo Escobar'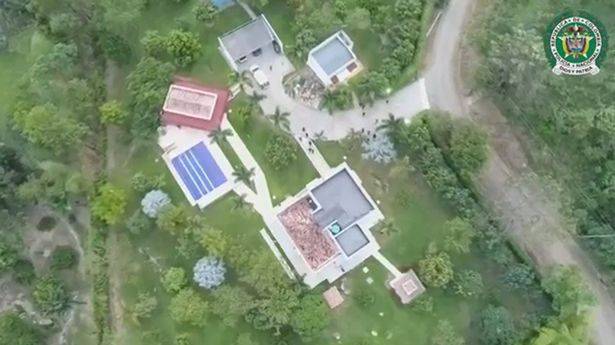 A man alleged to be the head of a criminal gang, which was once associated with Pablo Escobar, has been arrested in dramatic footage.
Elkin Triana Bustos, known as 'El Patron', was arrested by cops during a police raid at his multi-million-pound estate in Amaga in the north-western Colombian department of Antioquia.
Bustos is alleged to be the head of notorious gang Los Triana, which has been around since the 1980s and has links to Escobar and the Medellin Cartel.
After Escobar's death in 1993, Los Triana joined up with two other gangs Los Pepes and La Oficina.
Bustos has previously served time in prison for murder and the illegal possession of weapons between 1999 and 2011. He was initially sentenced to 40 years, but had a 'redistribution of the sentence', which saw it shortened.
The footage shows the armed police raid his £2.45million estate, which is filled with supercars, exotic animals and armoured doors, while Bustos, his wife and other family members are having some sort of celebration. According to local reports, police also found voodoo paraphernalia and a number of 'Gucci' baseball caps.
Bustos has been charged with drug trafficking, homicide and blackmail - among other offences.
Local police have said he is considered to be one of the most important crime bosses in Aburra Valley, meaning his arrest is pretty significant, to say the least.
:bangbang:Otro duro golpe a estructuras criminales. Capturado Alias "Elkin Triana", miembro del "Grupo Colegiado La Oficina" y actual cabecilla de la ODIN "Los Triana". Felicitaciones @PoliciaColombia @FiscaliaCol Fiscalía Crimen Organizado @PoliciaMedellin , SIPOL, SIJIN, DIPOL.
- Federico Gutiérrez (@FicoGutierrez) March 4, 2018
Mayor of Medellin Federico Gutierrez said: "This is another strong blow against criminal organisations in the area."
At the height of his criminal dealings, Escobar was believed to have control of more than 80 percent of all the cocaine shipped to the US. He made Forbes Magazine's rich list - placing in the top ten.
In the 1980s, it was reported that Escobar and the Medellin Cartel could be smuggling as much as 15 tons of the drug every single day - earning the gang around $420 million a week.