Costs to stay in one of the 'quietest places on earth' where people struggle to last more than 25 minutes
If you want to get some peace, you might head to the park or maybe have a lie-down.
Failing that, you could always take a trip across the pond and spend some time in one of the quietest rooms in the world:
Orfield Laboratories in Minneapolis, US, is home to an anechoic chamber, which absorbs 99.99 percent of sound... so it's about as quiet as the Etihad during a Man City game.
To put that into context, while the average room measures around 30 decibels at night, the one at Orfield Laboratories comes in at an astonishing -20 decibels.
Designed by Steven Orfield, the chamber is made of three-foot brick, with large chunks of fiberglass chunks wedged along the wall to help reduce the amount of echo.
It's generally used for experiments, such as testing motorcycles to make sure they're not too loud.
And it is so quiet that people struggle to spend much time inside.
"We challenge people to sit in the chamber in the dark," said Orfield.
"When it's quiet, ears will adapt. The quieter the room, the more things you hear. You'll hear your heart beating, sometimes you can hear your lungs, hear your stomach gurgling loudly. In the anechoic chamber, you become the sound."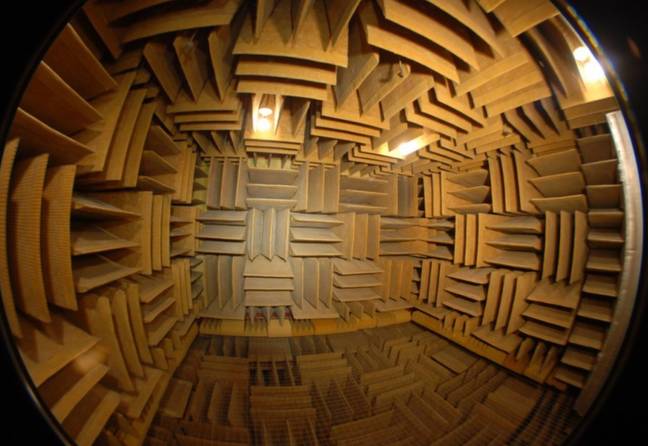 Speaking to CNN, speech and hearing scientist Hundraj Gopal said some strange things start happening if someone is in there too long.
He said: "As soon as one enters the room, one immediately feels a strange and unique sensation which is hard to describe.
"Most people find the absence of sound deafening, feel a sense of fullness in the ears, or some ringing. Very faint sounds become clearly audible because the ambient noise is exceptionally low.
"When you turn your head, you can hear that motion.
"You can hear yourself breathing and it sounds somewhat loud."
Doesn't exactly sound like the most relaxing way to spend an afternoon, does it?
But just say you did want to test yourself and see how long you could last in there, how much would it set you back?
According to the lab's site, a visit to the room will set you back $600 (£527) per hour, per person, with people charged for any time they spend in the room for an attempt.
Think I'll give it a miss, thanks.