Mystery of McLaren sports car that hasn't moved from hotel in two years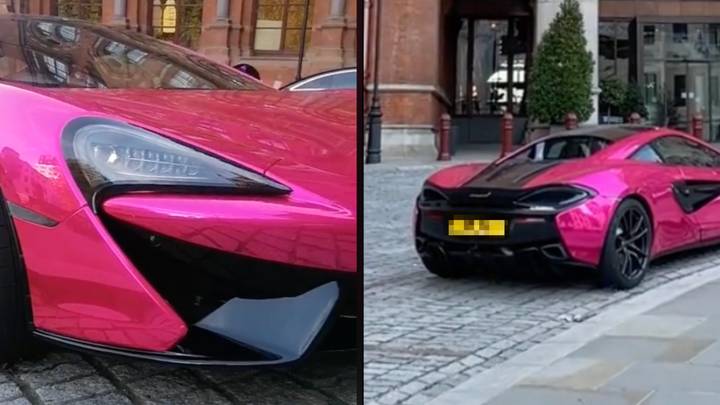 Mystery surrounds a pink McLaren sports car that has been parked in the same spot in London for the past two years, leaving locals baffled — and the vehicle has become something of a celebrity on TikTok:
Naturally, a hot pink sports car isn't exactly the kind of ride that fades into the background, so when there's one parked on the street, people tend to notice – especially if it hasn't moved for a number of years.
That's the case with a vibrant McLaren that's been parked up outside St. Pancras Renaissance Hotel, next to King's Cross St. Pancras station in central London.
Londoners say it's been there since the beginning of the pandemic back in March 2020, with many confused about why it's still there and whether it'll ever be moved – especially given just how notoriously difficult parking in the capital can be.
One TikToker called Gabby (@SoggySpin4ch) posted a video of the car, asking: "When will this pink car move? This car has been here the whole pandemic."
And after the video racked up 1.3 million views and more than 78,000 likes, it seems they were not alone in their bewilderment, with many others commenting to say they'd noticed it, too.
One said: "Wait… I walked past this like 7 months ago… IT'S STILL THERE?"
Another wrote: "I remember seeing it when I stayed there in the spring."
One baffled Londoner said: "I literally live in oxford and whenever I come to London see this car."
While one added: "OMG I SAW IT WHEN I WAS IN LONDON IN LIKE AUGUST."
One baffled local went as far as claiming it had been there 'for at least 8 years', saying they noticed it way back in 2014.
Others, meanwhile, speculated who the car may belong to – with some purporting to know that the male owner resides in the swanky hotel.
One person said: "It's been there since before 2018 at least, owner lives in the Hotel. They allow him to park it there since it looks good."
Going one better, another wrote: "I actually work at the St Pancras Renaissance Hotel, the McLaren is owned by one guest who permanently moved into the hotel near the start of the pandemic because he was having trouble getting back to his country."
LADbible has reached out to Marriott, which owns the St Pancras Renaissance Hotel, for comment.