Russian Tennis Player Writes Message On Camera For Vladimir Putin After Winning Match
Russian tennis player Andrey Rublev has made his thoughts on Russia's invasion of Ukraine perfectly clear after his advancement to the final of the Dubai Duty Free Tennis Championships.
Following the match, the world number 7 grabbed a pen and appeared to be about to sign his name on camera.
However, he chose a different message as he wrote 'No War Please'. Take a look at the moment below:
As the words appeared on screen, the crowd appeared to agree with Rublev's statement as it was met with applause and cheers from those in attendance.
The message followed a tense tennis match between Rublev and Hubert Hurkacz.
Rublev dropped the opening set but edged his way to victory, claiming 3-6 7-5 7-6 win.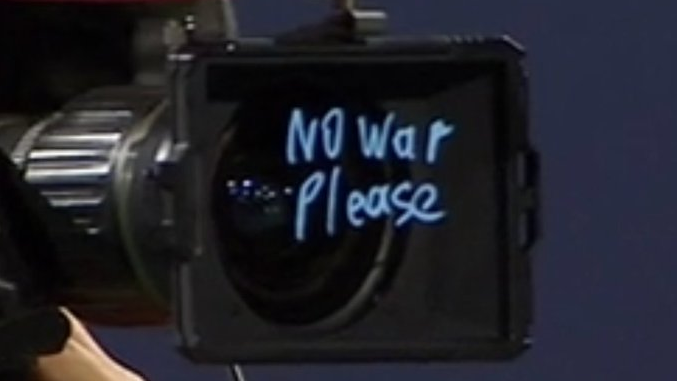 Rublev is one of the first Russian sports stars to speak out against Putin's invasion of Ukraine - but is far from the only Russian doing so.
Over 1,700 Russian people have been arrested for protesting since the invasion of Ukraine began yesterday (24 February).
Protests have occurred worldwide in the aftermath of the invasion and the Russian Ambassador of Ireland was even faced with angry crowds in Dublin.
137 people are said to have died in the first day of attacks, according to reports made by Sky News, and 100,000 civilians have fled their homes.
On the day Putin ordered the invasion of Ukraine, he issued a chilling warning to other countries contemplating getting involved and called on Ukrainian soldiers to throw down their weapons and 'go home'.
He also warned that any attempt to interfere by outside nations would lead to 'consequences greater than any of you have faced in history'.
"All relevant decisions have been taken. I hope you hear me," he added.
In the televised address, Putin also accused the US and its allies of failing to offer Moscow security guarantees and ignoring Russia's demands that Ukraine not join NATO - the North Atlantic Treaty Organisation - which boasts 30 member states across North America and Europe.
If you would like to donate to the Red Cross Emergency Appeal, which will help provide food, medicines and basic medical supplies, shelter and water to those in Ukraine, click here for more information.