UK supermarkets have revealed they will be setting limits on cooking oil sales.
Since Russian President Vladimir Putin first sent troops across the border on 24 February, marking the start of the beginning of his 'special military operation' in Ukraine, there has been disruption to cooking oil exports from Ukraine to the UK.
Various UK supermarkets have since announced they are implicating temporary measures on the purchasing of cooking oils.
The UK receives the majority of its sunflower oil from Ukraine, and sunflower in particular is used 'more than anything else', according to Edible Oils Commercial Director Kim Matthews.
In order to 'ensure availability for everyone', the British Retail Consortium explained temporary restrictive measures have been put into place.
Limitations are subsequently being placed on olive, rapeseed and sunflower oils.
Customers can only purchase three items of cooking oil at Tesco and two items each at Waitrose and Morrisons.
The measures have come into force both in-store and online.
A Waitrose spokesperson told the BBC: "We are closely monitoring the situation and working with our suppliers to ensure customers continue to have a choice of cooking oils."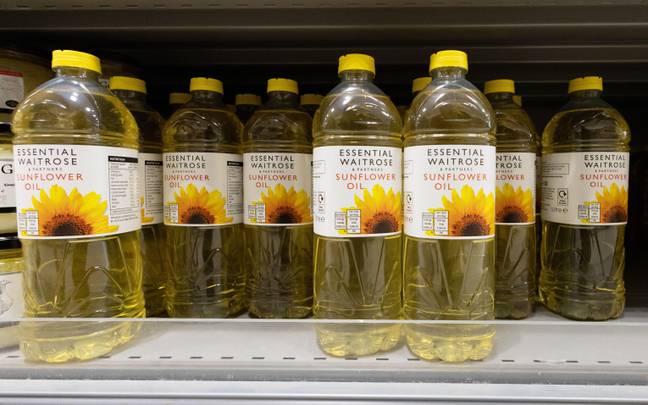 Signs have also been spotted in Iceland, limiting customers to only one two-litre or five-litre bottle of sunflower oil each.
However, supermarkets such as Asda and Sainsbury's have not yet enforced any measures.
A Sainsbury's spokesperson stated: "We are working closely with our suppliers to make sure customers continue to have cooking oils to choose from including olive oil, vegetable oil and rapeseed oil."
Grocery expert Ged Futter has warned that despite the restrictive measures, sunflower oil will likely run out 'in a couple of months'.
However, he reassured shopped there are 'an abundance of varieties' to the oils that are currently being limited.
Tom Holder, media and communications lead for the British Retail Consortium, also noted how 'retailers are working with suppliers to ramp up production of alternative cooking oils, to minimise the impact on customers'.
As well as facing a limited supply, customers have also seen a rise in the price of cooking oils since the invasion first began.
The average cost of sunflower oil across supermarkets such as Aldi, Asda, Lidl, Morrisons, Sainsbury's and Tesco was tracked by retail research firm Assosia.
Assosia found that there has been an increase in the price of a one-litre own-brand bottle of sunflower oil of more than 10 percent since January 2022. Prices have risen by an average of 12p to £1.26 for a one-litre bottle.
There was an increase of six percent or 38p for a five-litre bottle.
However, the average price of a one-litre of own-brand organic sunflower oil of £3.10 has not appeared to have changed.
Futter expects the level of food inflation to rise 'in excess of 15%'.
Products that contain sunflower oil may also face supply issues.
Sunflower oil is often found in foods such as crisps, oven chips and various biscuits.
Those with allergies have been warned to be extra cautious when purchasing products that contain oil.
Products labelled as containing sunflower oil may now instead contain rapeseed oil in a bid to ease supply issues, according to the Food Standards Agency and Food Standards Scotland.
Futter concluded: "The immediate focus is sunflower oil and rapeseed oil, but there will be many more products which will be affected over the coming months. It's some of the ingredients you don't even think about, like starch, which comes from wheat."
If you would like to donate to the Red Cross Emergency Appeal, which will help provide food, medicines and basic medical supplies, shelter and water to those in Ukraine, click here for more information