Hole dug by two lads on beach mistaken as 'meteor crater' on the news
A hole dug by two lads on a beach in Dublin was mistaken as a 'meteor crater' on the news.
The hole in question, which was found on Portmarnock beach in Dubin, Ireland, was believed to look 'out of this world' and stopped local astrophysics enthusiast, Dave Kennedy, right in his tracks when he came across it.
Virgin Media News reported on the discovery yesterday (13 September) and interviewed Dave who believed 'it came from up above'. Have a look at the bizarre sequence of events:
Many passersby also allegedly believed they had witnessed the 'aftermath of a cosmic event'
Speaking about the 'mysterious hole', Dave told Virgin Media News: "As you can tell by here, there's a scorch mark on the side here.
"So that would have been at the angle that it came down and it is weighty, I'm not sure if it's composition, but we're definitely gonna have to find out."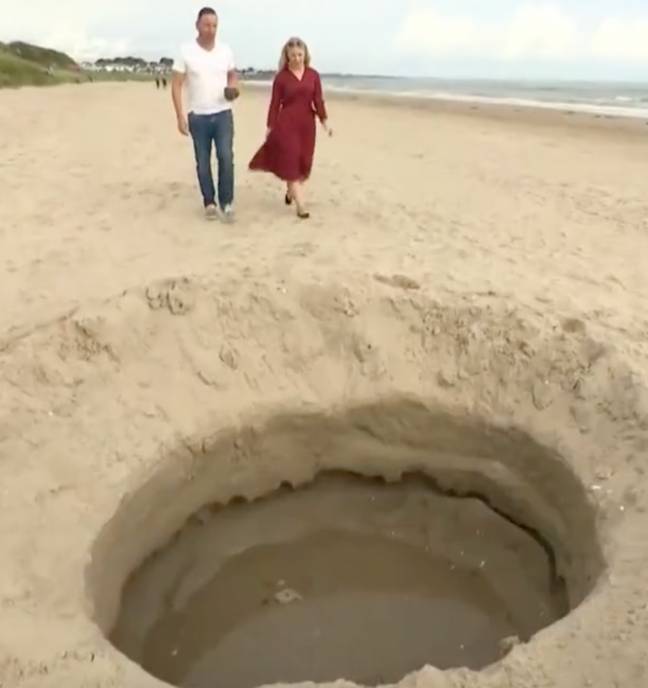 The news outlet did note that while there had been 'no confirmation' that the hole was the site of a meteor strike, Dave 'spent the day' reaching out to astronomy experts to see if they could help him 'solve the mystery of the crater on the beach'.
Since then, however, the entire thing has been completely debunked with video footage to prove it.
Taking to social media this morning (14 September), one X, formerly Twitter, user shared a clip of how the mysterious hole came about in the first place.
They began: "Lads I'm in bits.
"Virgin Media News is after reporting on a hole on Portmarnock beach that 'could be the aftermath of a cosmic event'."
The person went on to reveal that the whole thing came about from some heavy grafting from a couple of blokes rather than any out-of-this-world phenomena.
"Some fellas literally dug it the day before with a kid's shovel," the Twitter user confirmed before adding: "The way your man was talking about the rock being an asteroid had me in tears."
The side-splitting situation has clearly made quite the impression on the internet with a whole avalanche of people rushing in to share their reactions.
One X user penned: "It was just a lad and his mates digging a hole the day before. Wild how this has become a news segment."
"Well, this is awkward," commented a second.
A third echoed: "What a shambles."
While some people decided to take the opportunity to poke fun out of Dave, the X user who posted the big reveal video offered a follow-up tweet to the whole thing.
"Some of you freaks are being very f*cking weird about Dave. Who by all accounts is just a guy who got excited when he found a big hole and a cool rock," they wrote.
"People have been doing that for thousands of years ye a*seholes. Don't be w*nkers."
Well, that settles that then.
LADbible are on WhatsApp! We've launched a dedicated news channel to send you the latest news, features and plenty more directly on WhatsApp - all you need to do to sign up is click through to our one-way broadcast channel HERE for 'LADbible News' to appear in the 'Updates' tab on your WhatsApp.