Divers have found Megalodon teeth in a flooded inland cave in Mexico
Divers have found megalodon teeth in a flooded inland cave in Mexico.
So for those unaware, the prehistoric shark basically made Jaws look like Finding Nemo.
But to find out why the shark went extinct, scientists have since been looking for answers in the megalodon's most abundant fossil, its teeth.
Speleologist and photographer Kay Nicte Vilchis Zapata and her speleologist partner Erick Sosa Rodriguez discovered the fossils while diving in the sinkhole in Maderia.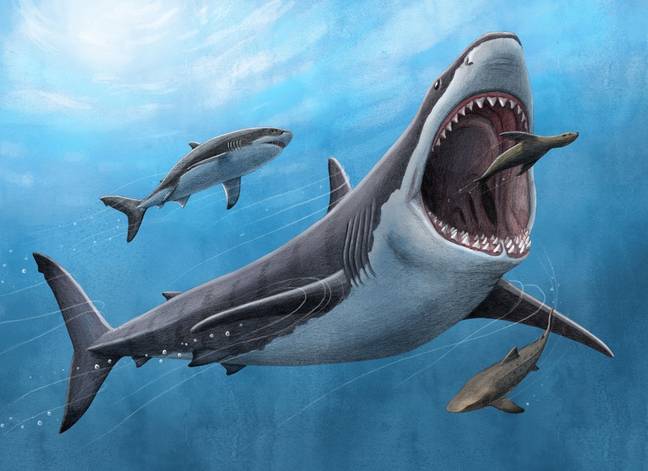 Fifteen dental fossils were found in the district of Cholul, which was once thought to have be under the sea.
Out of the 15 fossils, 13 of them belonged to three different species of the shark, one of which being the once deadly megalodon.
Back in 2019, Zapata told local media: "We were looking at the wall and suddenly I saw a little something, I went closer and I saw that it was a tooth, that was the first and apparently it belonged to a sawshark."
The shark teeth belonged to the megalodon shark (Carcharocles megalodon), the mackerel shark (Isurus oxyrinchus) and the sawshark.
They concluded that the geologic timescale for the megalodon teeth extended from around 5 million to 2.5 million years ago.
Speleologist Sosa Rodriguez explained: "It is just proof of what scientists have already studied and written about; what kind of wildlife lived here millions of years ago when this was part of the sea.
"The anthropologist and physicist Salvador Estrada has already launched an investigation."
Scientists have suggested that the megalodon was able to maintain a body temperature that was about 7C warmer than the surrounding water.
Based on analysis of tooth enamel from the ancient shark, the findings might help explain why it went extinct 3.6 million years ago.
According to the study - which was published in the Proceedings Of The National Academy Of Sciences journal - the amount of energy the megalodon used to stay warm could have contributed to its extinction.
Lead researcher Robert Eagle, a UCLA assistant professor of atmospheric and oceanic sciences, said: "Studying the driving factors behind the extinction of a highly successful predatory shark like megalodon can provide insight into the vulnerability of large marine predators in modern ocean ecosystems experiencing the effects of ongoing climate change."
Randy Flores, a UCLA doctoral student and fellow of the Centre for Diverse Leadership in Science, explained: "Maintaining an energy level that would allow for megalodon's elevated body temperature would require a voracious appetite that may not have been sustainable in a time of changing marine ecosystem balances when it may have even had to compete against newcomers such as the great white shark."