I did a trial shift at Karen's Diner and 'wanted to die' taking my first order
Anyone who's worked in hospitality will tell you that the idea of being able to tell customers to 'f**k off' sounds like an absolute dream.
Unfortunately, you have to treat them like they're always right - even when they've sent back a perfectly cooked steak, or ordered a margarita and kicked off when they weren't served a pizza.
But at Karen's Diner, you can call the customer a stupid prick, whether or not they deserve it. In fact, it's encouraged.
The chain - which started out in Australia - prides itself on its sassy service, and feeling jealous of the servers abusing diners in countless viral videos, I thought I'd see if I have what it takes to work at the rude food place.
I arrived at the recently-opened Manchester outlet at 3:00pm, meaning manager Mica Young had only two hours to run me through the usual two weeks of training before doors opened.
First up, I had to make sure I familiarised myself with the house rules: no racism, sexism, homophobia, ableism or body image comments.
Breach of any of these rules results in a staff member's immediate dismissal, but I wasn't worried about falling foul of these rules to be honest... it was everything else I was worried about.
Next, we went through some role play, and I practised serving Mica, who critiqued my performance in the way you'd expect - 'That was f***ing s**t,' and so on.
The challenge, I quickly realised, was being rude enough without being too rude. It's not easy, and that's why staff are provided with a service handbook that outlines how to find the happy medium between 'Saturday Disney Vibe' and 'Crossed the Line Karen's Vibe'.
For example, through trial and error with Mica, I learnt that calling a customer a 'nincompoop' is unacceptably tame, while calling them a 'f***ing c**t' is too far in the opposite direction.
I tried to keep this tightrope at the forefront of my mind, because before I knew it the time was 5:00pm, and I was on the frontline waiting to greet customers.
As I perched upon a stool behind a laptop, I nervously recited my teachings in my head: look uninterested, ask how many the table is for, don't smile, check if they've got any allergies, don't be too timid, don't go too far, STOP F***ING SMILING.
Alas, when my first customer contact came, I delivered a masterclass in how not to do it.
I saw a party of three come towards the door - a party which I judged to possibly be a mum, her fully-grown daughter and her not fully-grown daughter (she was a child).
As I asked 'How many is it for?', inside I was already thinking: "How the f**k am I going to make the number three funny?!"
"Three," the mother predictably said, to which I replied: "Well, more like two-and-a-half with the little one, isn't it?"
Mica glowered at me with a face that clearly said: "That was the most pathetic dad joke I have ever heard."
I was keen to redeem myself, and when the mum said she had a nut allergy, I replied as quick as a flash: "You don't look like you have a nut allergy."
This was apparently too far, what with her young child being stood right next to her and all. So yeah, finding the middle ground was as tricky as I'd feared it might be.
And this wasn't the worst of it either. When I went to take my first order I wanted to die.
Customers on other tables stopped what they were doing and began filming, and it dawned on me that I needed to somehow make taking this order funny. And not smile. And show no interest in taking their order, while actually correctly taking their order.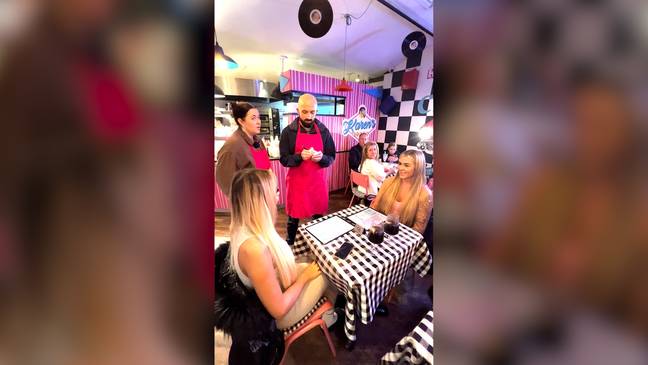 My heart was racing as one of the customers ordered 10 chicken wings... what could I do with that? The first thing that came to my head was that it seemed like quite a lot, so I sort of replied in a judging tone: "Just for you?"
Turns out this would have been considered a body image comment, and therefore I had violated the house rules on my first order and would have been out the door if I was an actual employee.
It also turned out they were sharing the wings anyway (though this wasn't immediately clear because my writing on my pad was unintelligible - and I was too busy concentrating on not dying to actually take in what they said).
In hindsight, I was probably trying to do too much too soon. I was trying to be an improv comic and a waiter, but Mica advises new staff to focus on getting the hospitality side of things right with a stinky demeanour to begin with, before building up their persona over time.
It wasn't all bad, though. I wrote 'virgin' on a paper hat and placed it on the head of a big lad who in any other circumstance would have decked me. I cut the string on some birthday balloons and watched them drift up to the ceiling. And I showed a lovely bit of initiative when a family asked for a picture, taking their phone, taking a selfie, returning their phone and walking away. I was proud of that.
When banterous exchanges went well, it was a rush. Sure, remaining in character was challenging, and at times I felt uncomfortable, but I used to find it challenging and uncomfortable playing the character of a waiter who actually gives a s**t when I used to work in normal restaurants. And I personally would take the discomfort of a risqué joke over the discomfort of tucking in a shirt and feigning a smile any day of the week.
Of course, the job isn't for everyone, just as the restaurant isn't for everyone, but there is clearly a market for the innovative concept, as the place was packed by 6:00pm on a horrifically wet Wednesday - even by Mancunian standards.
It was loud, roars of laughter erupting over The Jackson 5's 'ABC', juxtaposed with dour staff who looked as though they'd rather be anywhere else.
There were couples, families, grandmas, children - and even a baby - singing along and enjoying rousing renditions of 'Happy Birthday - f**k off' (the baby didn't sing along [I don't know whether or not they enjoyed it]).
As I surveyed the scene and tried to get a handle on what the hell was going on, I concluded people had come out in the pissing rain to visit Karen's Diner for the same reason that thousands of other Mancs were simultaneously heading out to watch Manchester City - escapism. A couple of hours of forgetting about normal life and absorbing something exciting and unpredictable (though admittedly a comprehensive City victory was fairly predictable).
The fact that so many people lament a so-called culture of cancellation, wokeism and snowflakes might have something to do with Karen's present day appeal, too.
As for me, I didn't walk away with a new job, but I did leave with an appreciation of just how difficult it is to work as a server while simultaneously staying in character and walking the fine line between too far and not far enough.
If nut allergy mum or chicken wings woman is reading this - I'm sorry.