Ian Wright and Alan Shearer will not appear on Match Of The Day in solidarity with Gary Lineker
Ian Wright has announced that he won't be appearing on Match of the Day tomorrow in a show of solidarity with fellow presenter Gary Lineker.
They said they had 'been in extensive discussions with Gary and his team in recent days' and considered his recent social media activity where he tweeted criticisms of the British government over the migrant crisis to be in breach of their guidelines.
Lineker criticised the government for the language they used in a video featuring Home Secretary Suella Braverman.
He said it was 'an immeasurably cruel policy directed at the most vulnerable people in language that is not dissimilar to that used by Germany in the 30s'.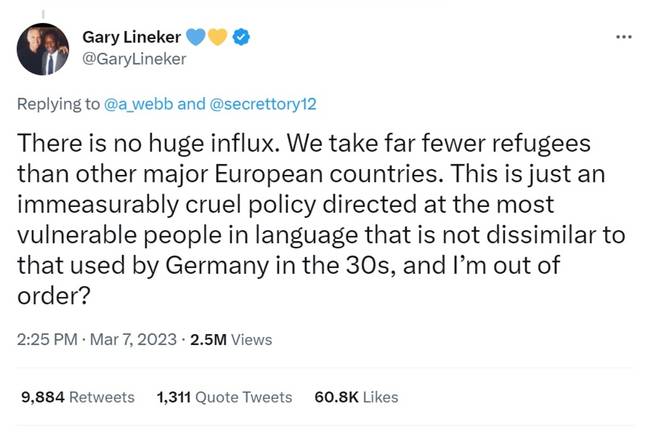 Shortly after the announcement that Lineker would not be presenting Match of the Day this weekend his colleague and fellow former England striker Ian Wright tweeted in support, saying he also would not be appearing.
He wrote: "Everybody knows what Match of the Day means to me, but I've told the BBC I won't be doing it tomorrow. Solidarity."
Wright's tweet has been met with a surge of praise from people telling him how much they respect his decision, with the former footballer being called 'a champion' and 'a top fella' for his show of solidarity with Lineker.
Fellow Match of the Day star Alan Shearer then announced that he also 'won't be appearing on MOTD tomorrow night'.
Plenty of others on social media wondered whether other Match of the Day stalwarts would also decline to appear on the show without Lineker and said whoever ends up being his replacement for tomorrow's (11 March) show was being handed a 'poisoned chalice'.
Since the announcement of Lineker stepping back from Match of the Day, Sky News have reported that the statement issued by the BBC was 'incorrect'.
They report that Linker has instead been 'taken off the air as he is unwilling to apologise for his social media comments on government policy'.
Lineker had yesterday tweeted that it had been 'an interesting couple of days' and said he thought that the backlash against his comments 'seems to be abating'.
He then said he was 'very much looking forward to presenting' Match of the Day and offered thanks to people for their 'incredible support'.
While five episodes of Wild Isles will be shown on TV the sixth will only be available to watch on iPlayer, the BBC have said this sixth episode was never intended for broadcast.
LADbible has contacted the BBC for comment.