Man reveals emotional words his teammate whispered into his ear as he carried him over marathon finish line
Former rugby star Rob Burrow has revealed the emotional words his teammate Kevin Sinfield whispered to him after carrying him over the finish line at the inaugural Rob Burrow Leeds Marathon last Sunday (14 May).
His great friend and former Leeds Rhinos teammate Sinfield has since raised more than £8 million for MND charities, including an Ultra 7 in 7 Challenge in November when he ran seven back-to-back ultra-marathons.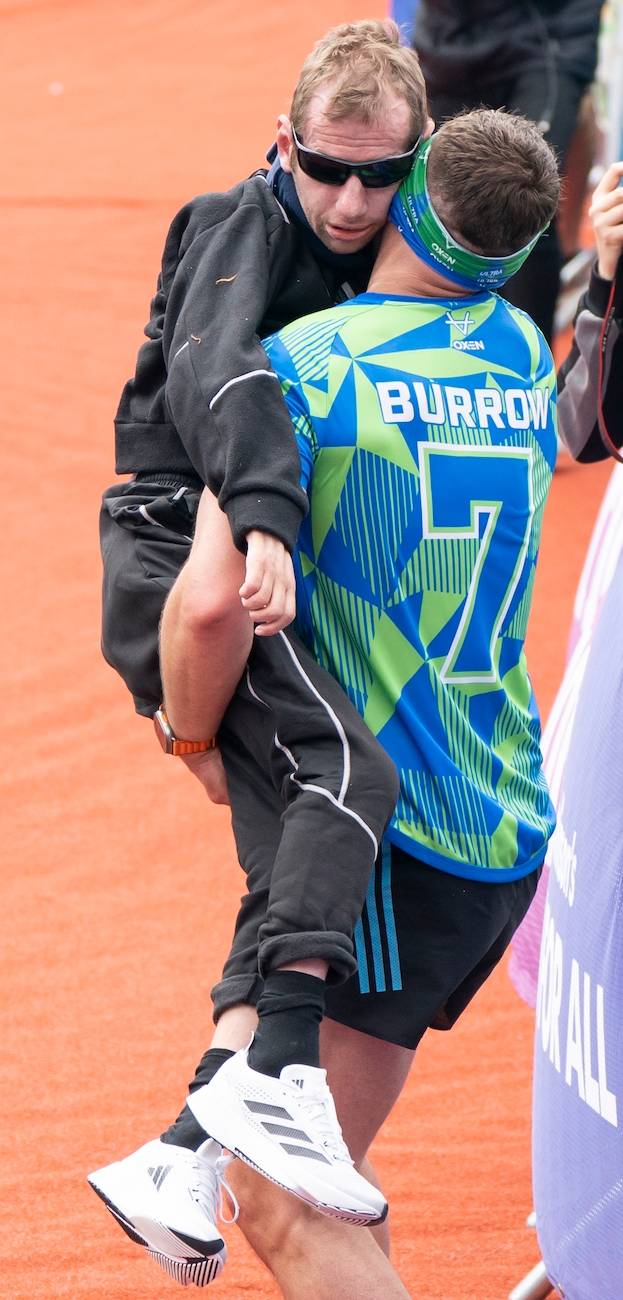 Sunday's event, plus the Leeds Half Marathon which also took place on Sunday, was held by Leeds City Council in partnership with Jane Tomlinson's Run For All charity and has already surpassed the £1m fundraising mark.
Father-of-three Burrow told the Sun: "It felt fantastic to be part of a team again with my mate Kevin as our captain.
"Kevin joked that he didn't want me to beat him by crossing the line (in my chair) first. I think he knew I had a cunning plan to claim that I finished before him.
"I want him to know that I have a plan to beat him next year."
Burrow was supported by his wife, Lindsey, who also raised more than £10,000.
"Kevin whispered, 'You're not going to beat me, Rob, we are finishing together'," Burrow said of the finish. "He then kissed me on the cheek."
"It's such an iconic picture. We've had messages from people all around the world telling us how moved they were by what Kev did."
Burrow also joked: "By the time I was finished with the run I felt like I'd been running the whole way.
"It really did take it out of me but I'd do it again in a heartbeat.
"I'm so happy to be involved in the first one of my marathons.
"It was a great day and to be carried in over the final few yards [by Kevin] was incredible.
"And how many people will be jealous of the smacker on the cheek?
"It just shows the love and care for me – and I assure you I have the same for him."