Man has £1 million car collection after being told he was 'good for nothing' when he was younger
One man now has a staggering £1 million car collection after being told he was a 'good for nothing' when he was younger.
Akhmed Yakoob's impressive collection includes a shiny Lamborghini, a Ferrari and Mercedes, with a Rolls Royce eventually being added as well.
After leaving school aged just 15-years-old, the father-of-four spoke about how he has been able to make it big despite everyone doubting him.
The 35-year-old is now a successful lawyer who bought an entire law firm, Maurice Andrews Solicitors, aged just 28.
Describing himself as 'not a magician but a legal tactician', the lawyer explains to his following on everything from legal advice to general advice.
But, it wasn't always a life of luxury for him.
He told The Sun: "Everyone told me I couldn't do it. They didn't want to me to go to university because they told me I'd fail. It made me want it even more."
The TikTok lawyer explained that he grew up in a 'crime-populated area' in Aston, whether everyone around him was 'into crime'.
"I was one of two of my friends that went to university," he said, "No one wanted to go."
Akhmed admitted that he was a 'naughty kid' and didn't care too much for school.
"It teaches children to pass exams, not how to be rich," he claimed.
"I bought revision books online after I was kicked out and used them to pass without needing classes."
He went on to study at Wolverhampton for his Bachelor of Laws degree where he received a 2:2, and admitted that he just 'scraped through'.
"Then I had to borrow money from two friends to get the £9,000 for a legal practice course. I worked for free at a local firm and then got a job at Maurice Andrews Solicitors," Akhmed explained.
He also recalled the lack of faith his employer had in him, saying: "My boss told me I was good for nothing. I had to prove everyone wrong and I've done that now."
And he most certainly did that.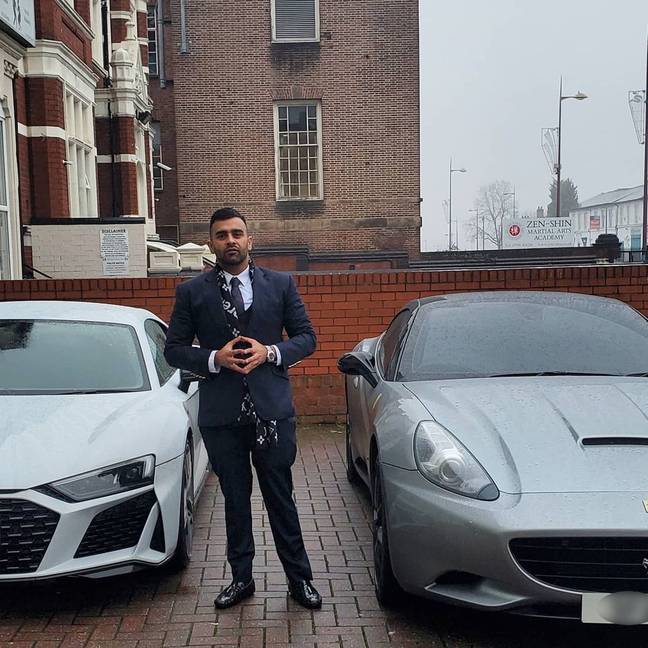 Only in his late 20s, Akhmed was finally able buy out his boss at Maurice Andrews Solicitors for £150,000.
He added: "I was a father at that point and wanted to do well for my family.
"I wanted to be my own boss. I didn't have a pleasant experience working under someone. I was told I was useless and I challenged that man."
He currently owns two Lamborghinis, a Mercedes Benz G-Class, a Ferrari F8 and will soon to be owner of a brand-new Rolls Royce.
Akhmed started TikTok in 2020 to spread the word about his law firm and says he has doubled his clients after going viral.
He said: "I'm becoming the first point of contact in the Midlands.
"People when they're in trouble they know me, they know to get in touch for help."
And his advice for a life of success?
Akhmed's words of wisdom are to' get away from the 9-5' and 'be your own boss' as soon as you can - as well as 'being kind to everyone'.