Dublin swimmers raise €40,000 for cancer charity by swimming the North Channel with no wetsuits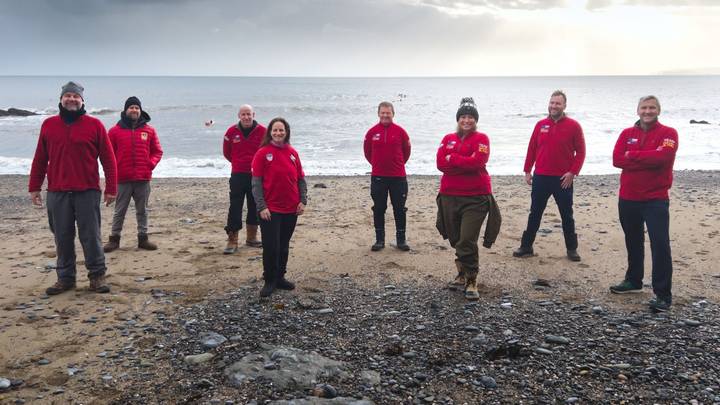 Fundraising is a painstaking task. There's only so many table quizzes your friends can enthuse themselves to attend, and door to door collection can be a soul destroying endeavour.
A group of swimmers from Dublin recently went above and beyond to raise money for a cancer charity, daring to attempt a physical feat that had never before been done - swimming the North Channel in the depths of January sans wetsuits.
The group, known as the Walrus Swim Team, is made up of six swimmers: Niamh McCarthy, Declan Bradshaw, Vincent Donegan, Ger Kennedy, Colm Morris and Dave Berry. They began their journey from Donaghadee in Co Down at 6am on Friday 14 January and a staggering 13 hours later they arrived at the cliffs of Scotland at 8pm.
"It's a goal of every open sea swimmer to have a go at one of the seven ocean swims," Declan Bradshaw said in an interview with the Irish Post.
"However, no one has ever done it in winter, and that brings with it different challenges. There's absolutely no way someone could do the swim solo in cold."
Although the aim was always to complete the swim in January, the exact timing was determined by certain conditions which needed to be met before they could face the icy waters. The hang had only a two-week window in which they could avail of both optimal tide and weather conditions.
"We were constantly watching the weather forecast and looking at all these apps that described the wind and the wave motions. We thought it would be Wednesday, then it was Thursday and eventually we landed on Friday."
Now granted, we're not the strongest of swimmers but even still we can't imagine how arduous the task of swimming for a full mile in freezing cold sea water must be.
"It's a very long hour of swimming, because all you can see is the boat and there's no milestones or land masses that you can point out," Declan explained.
"There's a few people on the boat like the pilot who is watching and guiding you, and an observer from the ILDSA to ratify the swim and who is also checking our stroke counts.
"I have 48 strokes in a minute, but if that dropped to 40 or less then I would have been in trouble."
The swimmer revealed the gang were swimming in sea temperatures of 8-9°C and air temperatures of 6-7°C, made more severe by a wind chill temperature of 3°C. Our teeth are chattering just thinking about it.
"The blood totally leaves your extremities so it's very difficult to get dressed, move your hands, put on your socks or anything. You need help to get dressed! No matter what clothing you put on, you're not going to warm up so you have to exercise with squats and stretching and shaking."
Each swimmer completed one hour each of the 35km journey, a blistering endurance test no doubt but it came with a huge pay off as the group managed to raise a staggering €40,000 for the Gavin Glynn Foundation, a children's cancer charity.
We take our hats off to the Walrus Swim Team. Our swimming hats that is.
Featured Image Credit: Walrus Swimming Team
Topics: Ireland