Man who bought airline's lifetime pass has travelled 23 million miles and saved £1.9m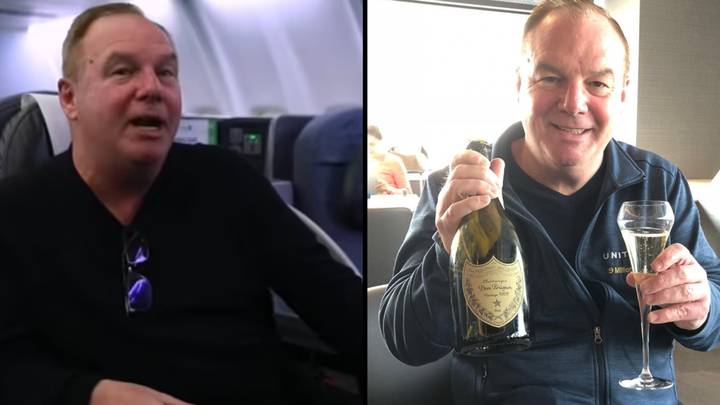 In this day and age, most people have been on a plane, but only a select few can truly call themselves seasoned travellers.
One man may have more bragging rights than most as he claims he has flown over 23 million miles.
Tom Stuker, from New Jersey, calls himself the 'world's most frequent flyer'.
The 69-year-old purchased a lifetime pass with United Airlines in 1990 for $290,000 (£227,000) and has been travelling ever since.
The pass, which is no longer in existence, enables passengers to fly in first class on any of the carrier's worldwide flights.
Unsurprisingly, Stuker considers it the 'best investment' of his life.
In 2019, he became the first passenger to fly 20 million miles with United Airlines after having hopped on 373 flights that totalled 1.46 million miles that year alone.
Without his pass, he claimed that these journeys would have cost him a staggering $2.44 million (£1.9m).
He has now revealed some of his own tips to give others the inside track of making the most out of their travels.
Speaking to The Washington Post, Stuker claims he always pretends to know the first flight attendant he meets on board the plane.
Apparently this person will usually be the head attendant and thus guarantee you a better chance at some VIP treatment.
He explained: "I always say, 'I remember you! You gave us such great service last time. I wanted to thank you again.'"
When it comes to whereabouts you're sitting, if you can't book a particular seat, Stuker recommends checking the seat map app when boarding the flight.
If a booked seat suddenly becomes free, he insists the cabin crew 'won't care' if you take it.
Stuker also shared some of his plane pet peeves - namely people who take phone calls without using headphones.
If a fellow flyer takes a long business call on speaker, Stuker delivers a disdainful response: "Hey, next time you're going to have all of us to your business meeting, bring doughnuts."
When it comes to luggage, Stuker has one rule - No checking bags.
Stuker only flies with cabin baggage, which he believes saves time.
Although he undoubtedly enjoys flying, he has also seen the bad side of travelling too - namely four heart attacks on flights.
Stuker said: "I'd met a couple of them, too. Just died right in their seats. The last guy was up in business with me, Chicago to Narita (Tokyo).
"They covered him with a blanket and put the seat belt back on. What else could they do? I guarantee somebody in business was thinking, 'Hey, if he's not gonna eat his chocolate sundae, would you mind…?'"
Summing up his years of travelling, Stuker said: "At the end of the day, it's not about the places I go, it's about the people I meet."