Mum's 50th Birthday Turns Into Full On Brawl Like Scenes From 'Shameless'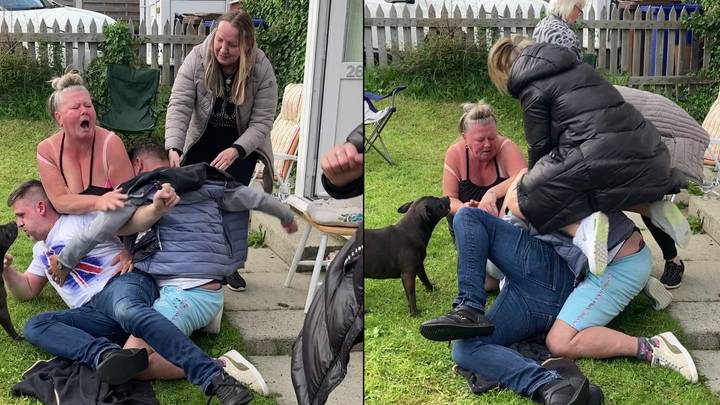 When you go to your mum's 50th birthday you expect a few things: cake, champagne, maybe a little confetti. But what you don't expect is a full-on Shameless style brawl that makes Anthony Joshua vs Oleksandr Usyk look tame.
Still, that's what happened when Lisa Keegan's family gathered to celebrate her 50th birthday. Take a look below:
Lisa was recently enjoying her boozy celebrations with a summery garden party when all hell broke loose over a snatched e-cigarette.
Things took a sour turn when family friend Adam, 40, snatched the e-cigarette from one of the teenagers at the party.
Defending the teenager, Lisa's boyfriend, Tony, 50, got involved and suddenly, a full-on fight ensued.
In the chaotic footage, Lisa was seen trying to separate the intoxicated pair - but instead she landed herself at the centre of the scrap with Tony accidentally swinging punches at her rather than his adversary, leaving her to shout: "No, you're battering me!".
The chaos then escalated when Lisa's daughter, Colleen Jarvis, fell backwards over a chair as other laughing guests looked on and arguments raged around a broken bench.
We'd argue an Elf Bar isn't worth the trouble but for Tony, it seemed like the principle of the thing.
Still, he laughed it off eventually saying that he's 'too old to be getting into fights'.
Lisa herself added: "You're only 50 once and this is certainly a birthday I'll never forget! It was mayhem.
"Adam was just winding people up, and he took [a lad's] e-cig. Tony stuck up for him, but instead of punching Adam he was punching me.
"They couldn't pack a punch between them because everyone was so drunk. I was in the middle of them to break it up, but I should have just left them to it.
"The video's hilarious. It's like something out of Shameless. I was like Meme. When I fell over backwards I just started laughing. Even the dog was barking to tell them off."
Lisa then admitted: "When I watched it back, I thought 'oh my days'. I was embarrassed. We've been getting a lot of stick about it but some people are calling me a legend. A lot of my friends think it's brilliant."
While the neighbours were laughing along with the fighting family, the police were called and they intervened, before taking Tony home.
But believe it or not, Tony is now on pretty good terms with Adam, with the 50-year-old saying: "It's funny to watch back. My girlfriend was falling over, Lisa was shouting and yelling, everyone's falling all over the place.
"Adam was being cocky, but we were all pissed up. It was more funny than anything else. He's not my mate but I know him. He's a nice lad.
"I accidentally threw a few punches at her but I didn't mean to. I didn't even know. I was tired more than anything. I'm too old for that sort of thing."
While Adam says he can't remember if he took the e-cigarette or not and says he hasn't seen the video yet, he's glad it's made people laugh.
"I didn't mean any ill intentions. And we had a laugh and a joke about it later on. It was more a drunken mess than anything else," he said, before adding he'd simply had 'one too many drinks'.
Accidentally threw punches' probably wouldn't hold up on court but thankfully, no one's pressing charges.