Dido has a child called Stan who was born after her song with Eminem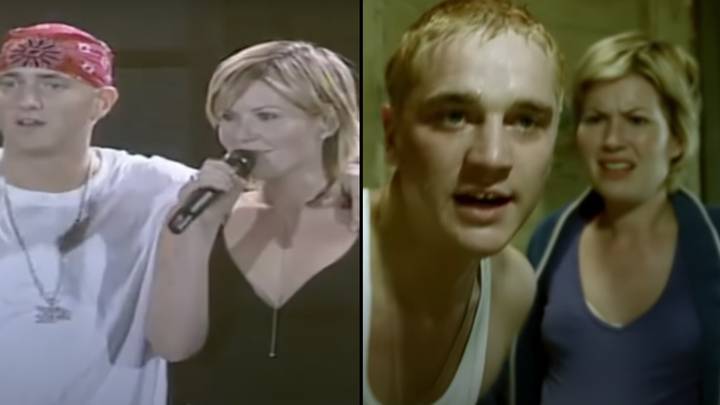 Did you know that Dido, the singer who had the famous 'Stan' hit with Eminem, actually has a son named Stan.
No, me neither. And the more interesting thing about this is that he was actually born after the 2000 hit was released.
For those not aware of the Eminem track and its infamous video, it told the story of Stan, a fan who looked up to Eminem's alter ego, Slim Shady.
While Stan is not based on a real person, the lyrics and its accompanying video are actually quite distributing.
Over the four verses, Stan becomes disillusioned and his mental health deteriorates rapidly after Eminem fails to respond to any of his letters.
In the video, Stan eventually goes off the rails by kidnapping his girlfriend and killing them both.
While being a featured artist on the track, Dido was also the romantic lead on the music video.
The video was deemed so distributing that scenes of Dido bound in the boot of a car were removed from a 'clean' version that was seen as appropriate to put on TV.
In the non-clean version, scenes include Eminem drinking vodka behind the wheel and Dido screaming as their car plunges into the water.
While it proved rather controversial, the music video for 'Stan' was actually nominated for five awards at the 2001 MTV Video Music Awards.
These were: Video of the Year, Best Male Video, Best Rap Video, Best Direction in a Video and Best Cinematography.
When Dido welcomed a baby boy in July 2011, you'd think the last name she'd want to give him would be Stan due to the terrible ordeal someone of the same name experienced in a music video she featured in.
But when her and partner, author Rohan Gavin, welcomed a little one 11 years later, that's exactly the name she gave him.
While many have assumed she named her son after her song with Eminem, Dido has flat out denied this.
Speaking on ITV's Lorraine in 2019, the singer said naming her son Stanley had 'nothing to do with the song'.
She added: "When I was a teenager, I was with my mate, I remember sitting on a wall, and they were like, 'What are you going to call your kid?' and I was like, 'Stanley'.
"Bizarrely, when I met my husband, that was the name that was his favourite for different reasons."