A Reddit user has mined the world wide web's depths and come up with gold in the form of TV legend Maureen Rees' disastrous driving lesson on BBC docuseries Driving School in 1997. You can watch the hilarious footage below:
The Welsh reality star's nightmarish driving became the stuff of TV legend in the nineties, and her motorway manner is enough to make the most seasoned monster trucker's hair stand on edge.
Watch if you dare as Maureen takes her rickety blue Lada Riva Estate for a spin on a dual carriageway under the guidance of her husband Dave, who should win an award for remaining so calm in the face of almost certain death.
Seemingly mistaking her Lada for a dodgem, the best part of the vintage clip is surprisingly not when Dave screams in terror as his spouse swerves lanes and is almost obliterated by another vehicle, but when Maureen queries: "What's the matter with you? What'd you do that for?" after her husband grabs the wheel in an attempt to stop them both from dying.
Driving School was first broadcast on BBC One in 1997 and followed a group of people learning to drive in Bristol and Wales.
Maureen - a cleaner from Wales who decided to learn to drive after beating cancer - quickly became a fan favourite.
Her success on the show not only bagged her a slot on presenter Michael Aspel's show This Is Your Life, Maureen even played herself in sitcom Barbara in 1999 and that same year appeared as a guest on The Tonight Show with Jay Leno.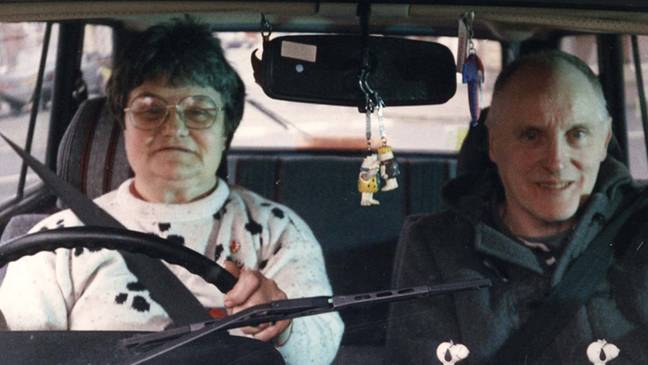 In 2000, Maureen appeared in a government campaign aimed at increasing road awareness.
She told The Telegraph at the time: "I had one nasty incident, soon after I passed my test, which happened just as I was approaching one of those painted roundabouts.
"A group of 20-year-old lads saw me approaching and they mooned at me as I drove past. If I'd had a sharp object."
Of her unexpected fame, she said: "I used to be a cleaner at Cardiff police station. The first time I drove home from work on my own I drew up at the traffic lights outside and realised that the other drivers in the queue had recognised me.
"So it was like Brands Hatch when the lights turned green: they all wanted to clear off and leave me behind."