Glass Onion viewers think 'best quote of the movie' was directed at Elon Musk
Glass Onion: A Knives Out Mystery viewers reckon that the 'best quote of the movie' was directed at Elon Musk. Check out the trailer below:
The sequel to 2019's Knives Out sees tech billionaire Miles Bron (Edward Norton) inviting his friends for a getaway on his private Greek island.
When someone turns up dead, Detective Benoit Blanc (Daniel Craig), who is reprising his role from the first movie, is put on the case.
Well, it seems that another famous name, not involved in the movie, is being heavily linked with the Netflix film.
"Are endorsements of #GlassOnion allowed on Elon Musk's Twitter? I hope so because it's a delight," one viewer tweeted.
Another joked: "2.5 minutes in to #GlassOnion and Elon is gonna ban this one on Twitter."
"I wonder if Elon will be banning all #GlassOnion content on Twitter," a third person added.
Viewers are now tweeting Musk directly while attaching the 'best quote of the film' in their message.
On November 29, Musk tweeted: "This is a battle for the future of civilization. If free speech is lost even in America, tyranny is all that lies ahead."
One fan then respond with the Glass Onion quote - from Craig's detective directed at Kate Hudson's character in the movie - which reads: "It's a dangerous thing to mistake speaking without thought for speaking the truth."
The quote used by Detective Blanc seems to be calling out those who defend their harmful rhetoric by claiming their right to free speech.
Many others have also been tweeting the quote to Musk - even on Christmas Day.
Someone else also wrote: "This movie was fantastic…and an entire roast of Elon M. Just great!"
Another said: "Even if someone was trying to write Elon Musk into a film character on purpose, he wouldn't do it as well as Miles in #GlassOnion. Wonderful film and perfect timing. 9/10."
Another added: "You can't help but notice the parallels in #GlassOnion to Elon. The fact that it was filmed in 2021 before Elon fully revealed himself to be who he is (even though a lot of us saw it pre-Twitter)...@rianjohnson must be able to see the future."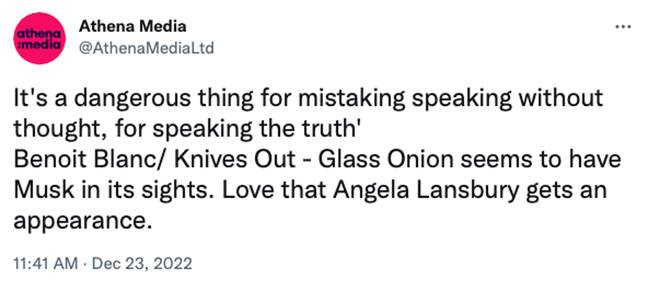 Since taking over the platform, Musk has controversially made a point of 'free speech' being a big feature on Twitter, saying: "Free speech is the bedrock of a functioning democracy, and Twitter is the digital town square where matters vital to the future of humanity are debated.
"I also want to make Twitter better than ever by enhancing the product with new features, making the algorithms open source to increase trust, defeating the spam bots, and authenticating all humans.
"Twitter has tremendous potential - I look forward to working with the company and the community of users to unlock it."