Emilia Clarke Is Missing 'Quite A Bit' Of Her Brain After Surviving Two Aneurysms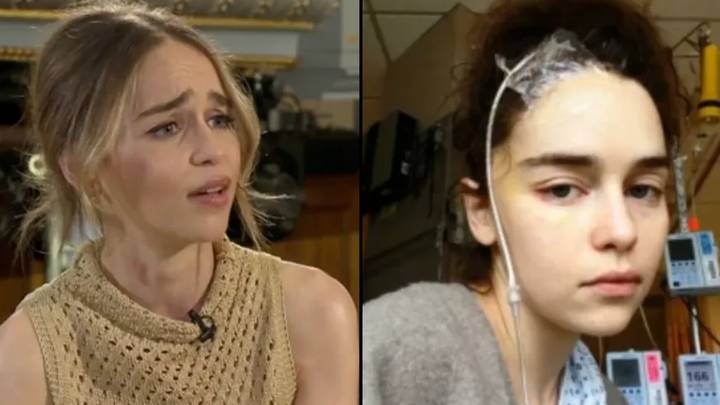 Emilia Clarke has revealed that 'quite a bit' of her brain is missing after suffering from two aneurysms. You can watch a clip of her interview below:
The Game of Thrones star previously opened up about the surgery she received from the terrifying ordeals, which unfolded in 2011 and 2013 when she was filming for the hit HBO show.
For the uninitiated, a brain aneurysm is a bulge in a blood vessel in your brain, and if it bursts it can cause fatal internal bleeding.
Luckily the 35-year-old actor lived to tell the tale, but it's not come without its consequences.
Speaking on BBC's Sunday Morning, she said: "The amount of my brain that is no longer usable - it's remarkable that I am able to speak, sometimes articulately, and live my life completely normally with absolutely no repercussions.
"I am in the really, really, really small minority of people that can survive that."
When asked about seeing a scan of her brain, Emilia said: "There's quite a bit missing, which always makes me laugh.
"Because strokes, basically, as soon as any part of your brain doesn't get blood for a second, it's gone. And so the blood finds a different route to get around but then whatever bit it's missing is therefore gone."
Prior to this, the star described the 'excruciating pain' she suffered as a result of the aneurysms, which caused repeated vomiting and left her trying to stay conscious and maintain her brain function.
After undergoing surgery which she previously admitted was the most pain she's ever been through, she is now able to live her life and continue with acting.
Emilia is currently starring in a two-and-a-half hour theatre adaptation of The Seagull, which she says she can do without missing a single line.
In an interview with CBS Sunday Morning, the Daenerys Targaryen actor said: "The first time it was difficult, with the second one I found it much harder to stay optimistic.
"[I coped with it as a] a day to day thing. I definitely went through a period of being... down - putting it mildly.
"The second one, there was a bit of my brain that actually died. If a part of your brain doesn't get blood to it for a minute, it will just no longer work. It's like you short circuit. So, I had that."
She went on to describe how her leading role in GoT may just have saved her life, adding: "You go on the set and you play a badass character, and you walk through fire, and you speak to hundreds of people, and you're being asked to be - to work as hard as you possibly can.
"And that became the thing that just saved me from considering my own mortality."
Emilia has used her experiences to help others, and has since launched SameYou - a charity campaigning for equal access to brain injury recovery support.