Terrifying Moment Ghost Hunter Is Throttled By Aggressive Spirit Living Attic
Sinister footage shows the moment a paranormal investigator was throttled by a suspected ghost while exploring the home of singer Toyah Willcox - spooking him so much that he thought he would 'die'.
Expert Barri Ghai was looking into paranormal activity in Willcox's house for the series Celebrity Help! My House is Haunted when the spooky incident allegedly took place.
Ghai was joined by colleagues Ian Shaw and Jayne Harris, having set up a special 'REM' recording device.
In the clip, Ghai says: "The REM is going off, I don't know why."
Suddenly, he puts his hand to his throat and starts coughing, throwing his head back as if choking on something.
"Are you okay?" Harris asks, before telling him: "Don't panic."
As Ghai taps his throat frantically, Shaw comes over and places a hand on his shoulder, asking: "What's the matter, mate?"
He also starts slapping him on the back, but eventually Ghai gets up to leave.
Addressing what appears to be a malevolent spirit, Harris says: "Whoever's doing that, can you step away please? You do not have permission to do that. Step away from Barri.
As Ghai rushes off to go downstairs, he can be heard saying: "F**king hell, something just grabbed my windpipe."
Shaw follows and urges him to sit at the bottom of the stairs to catch his breath, while Harris asks who 'did that to Barry' upstairs.
Clearly shaken, Ghai says: "F**king scared the s**t out of me."
When asked what happened, he continues: "Something just grabbed my windpipe, I couldn't breathe.
"I couldn't get a breath in. That's what scared me. I thought I was gonna die. I actually thought I was going to die."
Later in the episodes, the experts reveal to Willcox what they encountered while investigating her property.
"There was an energy in that room," Ghai tells her, going on to play her the audio of 'responses' they heard, saying many of them related to him – suggesting he was 'being picked on'.
He says: "And then I was sat there, I was talking, and all of a sudden my windpipe was constricted.
"I was actually really scared."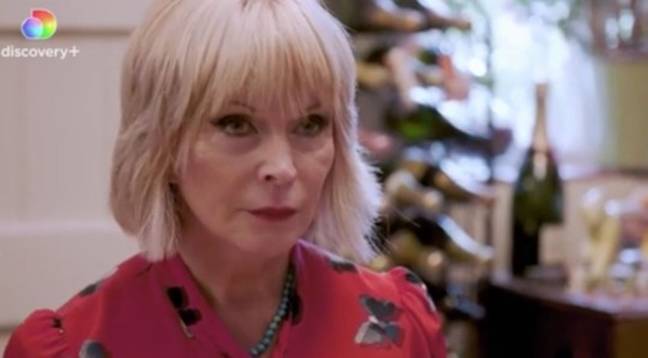 After playing a shocked Willcox the audio of what happened, Ghai continues: "It makes me feel really emotional listening to it. That is the most scared I have been in 20 years, because I was physically attacked and I couldn't breathe.
"I thought I'm going to collapse and die. I couldn't take a breath."
Watch Celebrity Help! My House is Haunted on Discovery+ now.