Jeremy Clarkson discovers someone put up Diddly 't**t' Farm sign in the night
Jeremy Clarkson has definitely made some enemies over the years - particularly after setting up his Diddly Squat farm in the Cotswolds.
And it would appear that one such enemy pulled a prank on Clarkson under the cover of night, leaving him to wake up to a rather unpleasant surprise.
The former Top Gear presenter shared a photo of the damage to Instagram, revealing that a mystery offender had tampered with one of the road signs leading to his farm.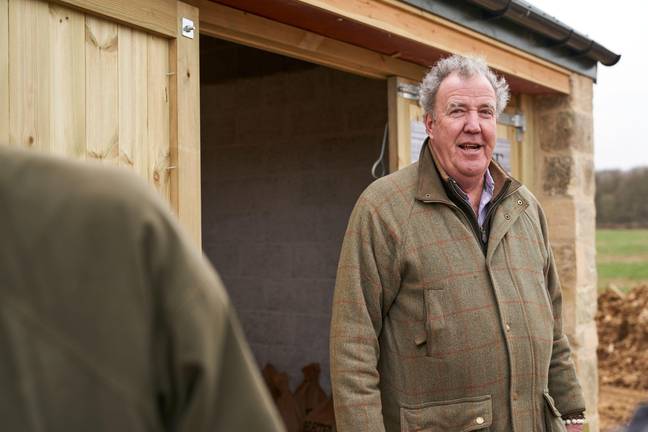 In the picture, a road sign that alerts drivers to an upcoming left turn that would bring them to Diddly Squat Farm Shop and Chadlington has been vandalised.
Rather than reading 'Diddly Squat Farm Shop', the signpost now reads: 'Diddly T**t Farm Shop'.
Sharing a photo of the evidence with his 5.5 million followers, Jeremy wrote: "Someone's been busy in the night."
Fans, amused by the prank, got to work in the comment section to try and figure out who might have been behind it.
"Council likely commissioned it," one follower suggested.
"Council wont find any issues with this," joked another.
Jeremy and his crew had been planning to build a restaurant on his farmland, but faced backlash from the council as soon as he first suggested the idea back in July 2022.
Despite having the planning application rejected by the local council, Jeremy decided to plough on after discovering a 'delightful little loophole' which involved changing the location of the restaurant into an already-existing barn within the farm grounds.
When it finally opened - a stressful day viewers can relive on season two of Clarkson's Farm - the Diddly Squat restaurant received a list of orders from the WODC which needed to be completed within six weeks of the notice being served.
But, despite the ongoing feud, it'd be a little strange if the WODC had anything to do with this mystery prank.
Others were convinced that it was the work of Meghan Markle supporters, after Jeremy wrote a highly controversial column about the Duchess for The Sun.
The article, which has since been taken down, covered how Clarkson 'hated' Markle 'on a cellular level', before going on to imagine her in the 'shame' scene from Game of Thrones.
After a hefty amount of backlash, Jeremy grovelled pretty hard, and couldn't apologise to Meghan enough for the 'disgusting' column.
So it probably wasn't Meghan fans either.
Some fans are convinced that this prank was done in jest rather than malice, though, and are pointing their fingers at two top culprits: Richard Hammond and James May.
"This was definitely May and Hammond," insisted one follower.
"It was Hammond getting you back for the speed boat name change," agreed a second.
In a 2021 episode of The Grand Tour, Jeremy and James pranked Richard by naming his speedboat to 'Jizzle Drizzle', giving him the perfect motive for a revenge prank.
Will the culprit ever step forward? Watch this space.