Kaleidoscope fans warn new viewers over episode order before watching new show
If you're planning to watch the new Netflix drama Kaleidoscope, fans who have already watched the show have a very important tip.
While the concept might sound mind-boggling, don't fret, as it seems most viewers on social media are loving it.
The nonlinear heist drama centres on master thief Leo Pap (Esposito) and his crew attempting a mind-blowing heist worth $7 billion and it takes place 24 years before the heist and explores the months after, too.
Jai Courtney, Rosaline Elbay, Paz Vega, Tati Gabrielle and Jordan Mendoza are also among the cast.
All episodes are named after colours, just like a kaleidoscope. This means each viewer can choose their own journey based on the colours they like the most.
The episodes are: 'Green', 'Yellow', 'Orange', 'Blue', 'Violet', 'Red', 'Pink' and 'White'.
There are 5,040 possible combinations to experience the series and your opinion on certain characters and key plot twists will be dictated by how you choose to watch the show.
While the possibilities are almost endless, 'Black' serves as an introduction to the show's concept, while the episode 'White' is intended to be the series finale.
However, this all important rule was missed by countless viewers who didn't know that, regardless of the order you choose to watch the show, 'White' should always be the finale.
Now, fans are warning others to save 'White' for last to ensure they get the juiciest viewing experience.
"Hi if you're gonna watch kaleidoscope on Netflix, pls watch the white episode last," one fan told the Twitterverse, while a second said: "idc how many plot twists this show has nun prepared me for white.
"If you watch this series make sure white is your ending episode no matter what. [sic]"
Another viewer praised the series first, writing: "#KALEIDOSCOPE ohhhh what clever fun this was WOW. I watched in the Netflix order.
"Gonna wait a while and then watch in a different order. Whatever order you choose, I recommend saving the White episode for last. #kaleidoscopenetflix."
A third fan tweeted: "I just finished Kaleidoscope…watch the White Episode last."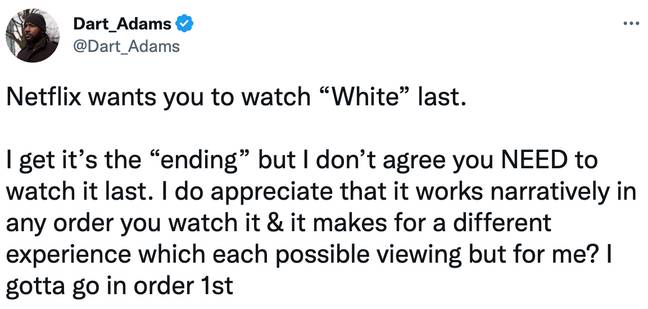 And someone else shared their way to truly 'enjoy' the series, saying: "Kaleidoscope was good … just watch Pink then White last and you'll enjoy it."
But, in a surprising twist, not everyone was in agreement.
One viewer believed that 'White' doesn't necessarily have to be the ending.
"Netflix wants you to watch White' last," they said. "I get it's the "ending" but I don't agree you NEED to watch it last. I do appreciate that it works narratively in any order you watch it & it makes for a different experience which each possible viewing but for me? I gotta go in order 1st."