Kanye West Shares Message Explaining Why He Treats His Daughters Different To His Sons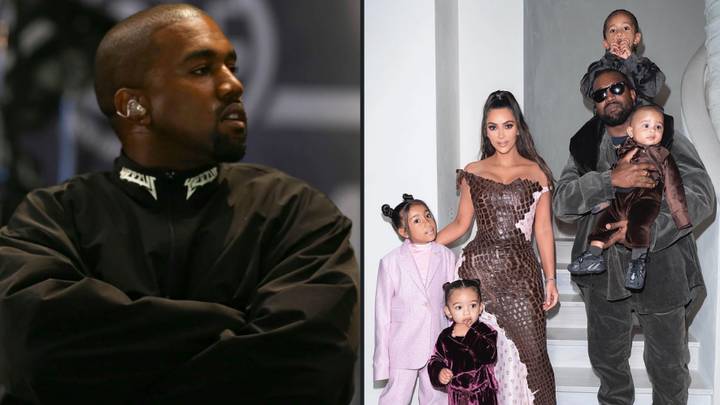 Kanye West has shared a text explaining why he might parent his sons differently from his daughters.
The rapper received a message from collaborator The Game, which was screenshotted and uploaded to Instagram.
The 'Easy' star explained to Ye that Kim Kardashian is 'using' North's presence on social media to 'trigger' him.
"They're trying to use North against you," The Game wrote in a message that received a '!!' reply from Kanye.
"They know that's your only trigger. They aren't using the other kids because they aren't old enough & are pretty much babies.
"Saint on Tik Tok wouldn't trigger you as much because he's your son & and our boys have US in them."
The Game added: "North & Chi pull on your heart strings the most because they are delicate children. They're girls & we our protectors due to our knowledge of women being abused in this world."
Ye was outraged by the video and posted a slew of attacks against Kardashian's parenting style, revealing: "I told y'all before about this tik tok stuff.
"Now my 8 year old on here signing she fell in love with an emo girl Leftists don't want fathers to have no say in our childrens lives."
Davidson wrote to Kanye: "Yo it's Skete. Can you please take a second and calm down. It's 8am and it don't gotta be like this."
"Kim is literally the best mother I've ever met. What she does for those kids is amazing and you are so f***ing lucky that she's your kids mom," he said.
Davidson, who hasn't publicly commented on the fall-out between Kim and Kanye, also said via text he's done 'being quiet'.
"I've decided im not gonna let you treat us this way anymore and I'm done being quiet. Grow the f**k up," he said.
The Saturday Night Live star taunted the rapper by sending him a picture of him in bed saying he was with Kim Kardashian.