Ke Huy Quan is terrified his recent Oscars success is just a one time thing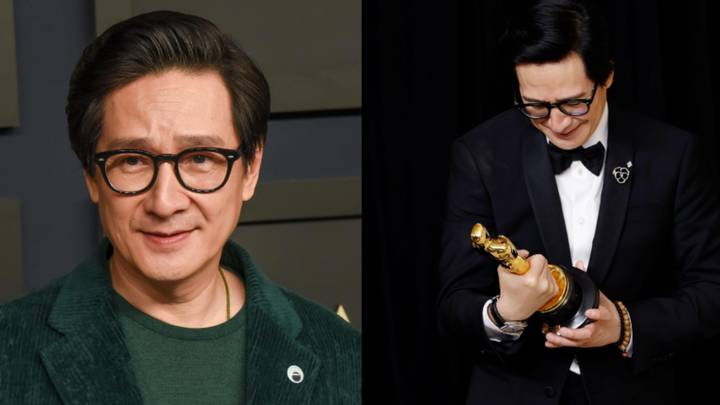 Ke Huy Quan admits he fears his newfound success is just a one-time thing.
Earlier this week, Quan won an Oscar for his performance in Everything Everywhere All At Once after his long hiatus from acting.
In his speech, Quan opened up about his past struggles, revealing he spent a year in a refugee camp growing up before living his very own 'American Dream'.
And while this seems like the beginning of a fantastic comeback, the 51-year-old can't help but think this might be the end.
The actor shared with Variety that during a discussion with Cate Blanchett, he told her he didn't know his next move following his colossal success.
He told the outlet: "I attended an event recently and sat next to Cate Blanchett.
"I told her that I don't know what I'm going to do next, but I feel I have a responsibility to do something good, and that I don't want to disappoint all the people that have supported me."
However, Blanchett had some wise words for The Temple of Doom actor.
"She said, 'Just go with your heart and be irresponsible: Don't worry about what other people think. Choose something that you believe in, choose something that you love, and things will work out,'" he added.
He said he had a recent call with his agent and he left feeling 'so worried that this is only a one-time thing'.
The actor also briefly discussed how difficult it was for him to land roles as a young actor.
While he noted that being cast-type in stereotypical Asian roles made it hard for him to build a career, he believes the film industry has come a long way.
He said: "Forget about 30, 40 years ago — even 10 years ago. Look where we are now: The landscape looks so different. We have a seat at the table.
"Our voices are being heard. Our faces are being seen, and it feels amazing."
Along with Quan, Michelle Yeoh won the Oscar for Best Actress, officially making her the first Asian to succeed in her category.
He told the outlet that he squeezed Yeoh's hand right before her name was called, along with his costars Jamie Lee Curtis and Stephanie Hsu, to help calm her 'nerves'.
He added: "We were just hoping and praying that her name would be called. And then history was made."