Does Lemon Coffee Really Help You Lose Weight? TikTok Trend Explained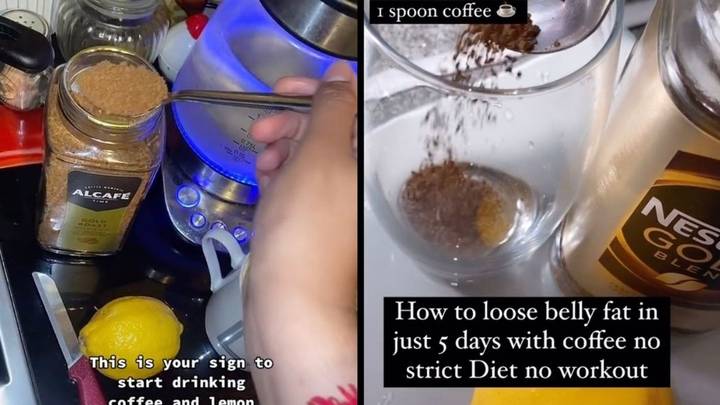 Now, users of the social media site have seen 'coffee and lemon' for weight loss cropping up on the platform. But does the no-doubt disgusting mixture really help you lose weight?
Well, LADbible has spoken to nutritionists and doctors about this trend to ask that very question. Here's all the info you need to know about lemon coffee.
Does lemon coffee help for weight loss?
While this TikTok challenge seems pretty simple, just squeeze some lemon into your coffee and supposedly reap the benefits of weight loss, nutritionist Ruth Tongue doesn't believe it'll help you to lose weight at all.
"It's extremely unlikely that simply by having black coffee with lemon juice in the morning without making any other lifestyle changes to your diet or activity level, you'll lose weight," Tongue, who is also the director of Elevate, explains.
"There is no magic weight loss property of lemons, or coffee for that matter and to combine the two doesn't, unfortunately, lead to dropping pounds."
Tongue did explain, however, that "caffeinated drinks will slightly raise heart rate and…may increase fat burning when exercising.
"But this effect is short-lived and minimal, especially if you're not performing endurance exercise."
Dr Deborah Lee also added that aside from the trend popping up on social media, "there are no studies on the effects of lemons on weight loss in humans."
However, as separate ingredients, "both lemons and coffee have some properties for health that are conducive to weight loss… Although the benefits are likely to be small," Dr Lee, from ​​Dr Fox Online Pharmacy explained.
What are the benefits of lemon and coffee?
While the experts have explained that lemon coffee may not contribute to weight loss, both lemon and coffee have a wealth of health benefits in their own right.
Lily Chapman, a nutritionist at P3RFORM, says that caffeine, a natural stimulant found in coffee, "has been shown to increase neuromuscular function, alertness, vigilant, as well as reduce the perception of exertion during activity."
A 2019 study, Coffee Intake and Obesity: A Meta-Analysis, also found that a high coffee intake had a modest effect in lowering BMI and reducing waist circumference in men, but the same effects weren't seen in women.
Meanwhile, Chapman explains that lemons "are a rich source of vitamin C and provide the body with essential antioxidants and minerals needed for immunity.
"However, there is, unfortunately, no evidence to support the premise that drinking lemon coffee will help you lose weight long-term."
Instead, if you want to lose weight safely, Tongue recommends the following: "As boring as it sounds, weight loss comes down to reducing calorie intake, being more active, having good quality sleep and managing your stress levels.
"There is definitely no quick fix and consistency is key."
Chapman also adds: "No juice, pill, waist trainer or 'superfood' can ever replace the importance of a healthy, balanced diet."