People stunned by 'rude' This Morning clip where Holly is told to hold item 'six inches away from her face'
In a segment that should be labelled: "How did that get past production?", a clip from This Morning has resurfaced showing Holly Willoughby demonstrating a very suggestive bit of tech for the show's Guess The Gadget segment.
Posted on TikTok, the throwback clip has been viewed a massive 987.5K times after being posted only two days ago.
Watch the innuendo-heavy clip below:
The video, which appears to be from 2009, sees Holly looking sheepish and standing next to This Morning co-host Phillip Schofield, holding an object that looks like a white, black and chrome dumbbell that she shakes intermittently.
"What is that do you reckon?" asked Phil.
He begins to give a few hints from the instructions to give clues to its identity: "It says hold it six inches away from your face at all times to avoid injury."
Holly shifts slightly saying: "Okay - that's about six inches," to the amusement of someone off camera who erupts into laughter.
"Im sorry, but someone's being very rude - ignore that, that's not the instruction," exclaims Schofield, with his finger on his ear implying that the producers speaking directly into his earpiece are not making professionalism any easier.
"The instruction is to shake vigorously."
He explains that the widget is not motorised but a 'mechanic device that you move back and forth with your own muscle power.
"You lock your wrists, move it slowly back and forth on an even plane, three inches in each direction - okay
"Hold with both hands, elbow close to the body..."
"Oh that's where I'm going wrong!" Holly realises, "...and tighten the muscles in your upper body."
The uncontrollable laughter and suggestive poses imply that the gadget they're guessing (which seems to be a shake weight) wasn't picked out for being groundbreaking technology.
The comment section of the video contains some predictable Carry-On-style humour.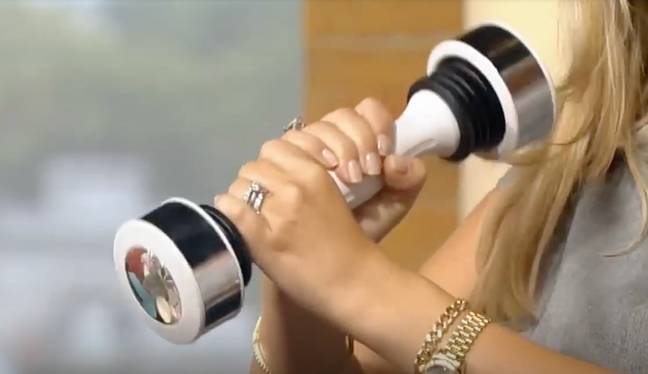 One says: "I thought this was only a joke from South Park," referring to the season fourteen episode, called Crème Fraiche.
While a second added: "This is an instructional video for something."
She explained that her husband of nearly 50 years keeps nipping off to Thailand without telling her and she's discovered he's been sending hundreds of pounds to someone in the country.
Holly said this is definitely not okay while Phil suggested Julie's partner might be cheating on her with a 'man or a woman'.