Gogglebox star Stephen Webb's 'monthly earnings from show' before quitting after ten years
Now that two of the nation's favourite armchair critics have left Gogglebox after 10 wonderful years, many fans are left wondering just how much the duo raked in each month for their hilarious telly commentary.
While the 50-year-old hairdresser is well known for his hilarious impressions, viral quips and side-splitting personal anecdotes - what many viewers don't know is what the Gogglebox star's 'monthly earnings' from the show was before quitting.
Stephen originally featured on the show with his former partner Christopher Steed, but was later joined on the sofa by his mum, Pat, in 2017 after Christopher left the series.
Two years later, in 2019, Pat left to make way for Daniel, who joined the series for its 13th season in 2019.
The couple's departure was announced by Gogglebox creators Studio Lambert and Channel 4 in a statement explaining why the pair were finally hanging up the telly remote.
It read: "After a brilliant and illustrious time on Gogglebox, Stephen and Daniel have decided that now is the right time to explore life beyond the sofa and leave the show.
"As one of the original Goggleboxers, Stephen has entertained the nation with his hilarious quips since the show first started in 2013, sharing his opinions on the best and biggest TV events of the last ten years.
"We would like to thank him and Daniel for being utterly brilliant contributors to the show, and we wish them well with their future projects."
But, before calling time on the show, how much did the pair get actually get paid?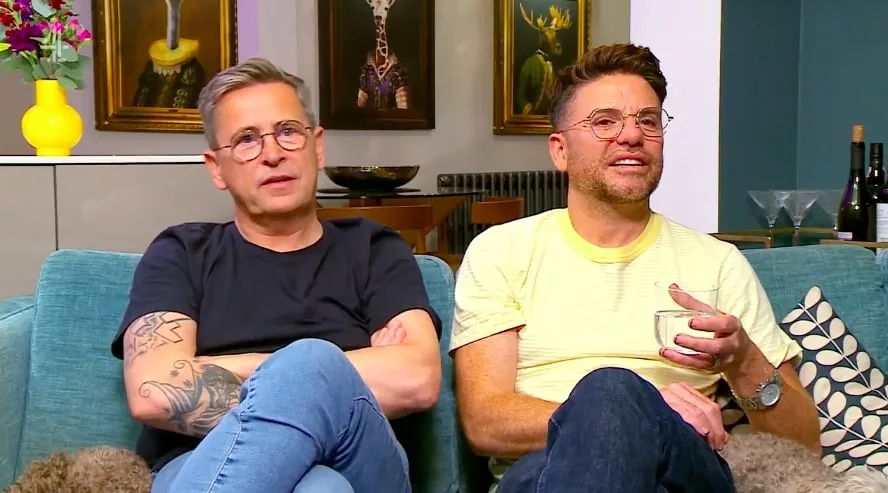 Stephen first appeared on Gogglebox in 2013 with Daniel joining in 2019. Credit: Channel 4 Credit: Channel 4
Well, according to The Sun, each family on Gogglebox receives £1,500 every month for their appearances on the programme.
The families, or couples or friends, then divvy up that amount amongst themselves.
To be honest, that's not a bad grand total considering all you've got to do is watch 12 hours of TV a week split into two six-hour shifts.
The flexibility commonly allows most participants to even hold down their day jobs around filming schedules.
Oh yeah - they also get a free takeaway of their choice during longer filming sessions.
Now, Stephen has been on the show since the first season which aired March 2013 and his last episode on the season 21 aired June of this year.
So, if we're following The Sun's figures and these particular calculations, considering Stephen was on the show for 123 months since 2013 at £1,500 a month then he would have raked in a staggering £184,500 for his 10 years on Gogglebox.
It is important to note, however, that the cast may not have been filming for the full 12 months a year and therefore that grand total may be lower in reality, with LADbible reaching out to Channel 4 to confirm a more accurate estimate of a number.
Talking about the departure, Stephen opened up to his 263k followers on Instagram, writing: "After careful consideration, Daniel and I have decided we will not be returning for the new series of Gogglebox. We feel the time is right to move on and explore other opportunities.
"We would like to thank both Channel 4 and Studio Lambert for letting us be part of this amazing, funny and heartwarming show.
"We are also extremely thankful to the cast and crew, or Gogglebox family as we call them and of course the fans, thank you for all of your love & support over the years."
It truly is the end of an era.