A Conspiracy Theory Suggests That Tupac Was A Member Of The Illuminati
Given that today is the anniversary of Tupac Shakur's death, it's probably best we talk about the fact that a lot of people believe the rapper is still out there.
Yes, historically, he's really important to hip-hop and music in general, and he's ridiculously successful, even after his death - but to some he's better known as the man who may or may not be dead.
We could bang on for hours discussing the evidence for and against Tupac's alleged faked death, but what's the point? Let's talk about the most ridiculous conspiracy theory behind his 'death'.
Of course, it's not going to be a proper conspiracy theory without The Illuminati, so, of course, they're involved.
On September 13, 1996, Shakur was shot dead in Las Vegas, but some claim the rapper had already foretold his death a few times before, with the evidence hiding in his lyrics.
A year prior to the reported death, on the album Me Against the World, the East Coast hip-hop star rapped: "I'm having visions of leaving here in a hearse / God can ya feel me? / Take me away from all the pressure / and all the pain / show me some happiness again," on the track 'So Many Tears'.
The following year his death hit the news, but people seem to think it was all a distraction for him to flee to Cuba, where he's away from all the pressure, all the pain, and can have some happiness again.
'Experts' believe that Pac desired the incognito lifestyle after his membership in the aforementioned Illuminati turned out to not be what he thought and he needed an escape.
It is thought after Tupac's release from Clinton Correctional Facility on February 14, 1995, having served a prison sentence for sexual assault, that his lyrics reflected his regret of joining The Illuminati.
Off the back of his sentence, he released All Eyes on Me, as well as The Don Killuminati: The 7 Day Theory under the pseudonym Makaveli. Reportedly, the lyrics on the latter album were a lot darker due to him reading many books by Niccolò Machiavelli, Sun Tzu, and other works about political philosophy, in prison.
Obviously 'Killuminati' means something, with many pondering whether it means to kill the Illuminati, or if it was an attempt to expose the cult.
The Makaveli album, as well as the final album released under the stage name Tupac, came during his Death Row Record days, which is when the majority of his Illuminati-linked lyrics came along, featuring on the two albums as well as his posthumous releases.
In the song 'Good Life', which featured on 'Until the End of Time', he says: "I was so money orientated, initiated as a thug / Fiendin' for wicked adventures, ambitious as I was / Picture a nigga on the verge of livin' insane / I sold my soul for a chance to kick it and bang."
Credit: Death Row Records/PA
And he rapped on Scarface's The Untouchable album track 'Smile': "Sellin' my soul for material wishes, fast cars and bitches."
In an interview about the forthcoming release of 'The Don Killuminati', Pac dropped hints about exposing the organisation.
"I'm putting a K on that Illuminati shit 'cause that's what I'm doing, I'm killing that shit," he said. "If these motherfuckers wanted to kill you, why would they tell the Nation of Islam, why would they tell people in jail, how did they know? We just need to get the money, I don't give a fuck whose face is on there."
A waxwork model of the rapper is also believed to be a part of the Illuminati. Credit: PA
The be all and end all is that Pac alluded to the fact death was never far away. The rapper always managed to drop some kind of reference to 'being taken away' in songs or interviews. Had he not dropped these references, his apparent death wouldn't be the cultural phenomenon it is today.
It's thought maybe that's what he wanted. He put enough hints out there for The Illuminati to be properly exposed, and then left a trail that would lead people to think he faked his death, until the time was right for him to return.
Do you think it's just a coincidence the rapper was shot on Friday the 13th, on the day a new phase for the moon began? The Illuminati is known to use numerology when it does things, and so Pac dying without anyone confirmed to be the killer, on that day, on that date, was another hint being dropped.
Of course, he couldn't make it obvious. As a member who was trying to get away from it all, he had to be smart about it, so saying it outright wasn't an option.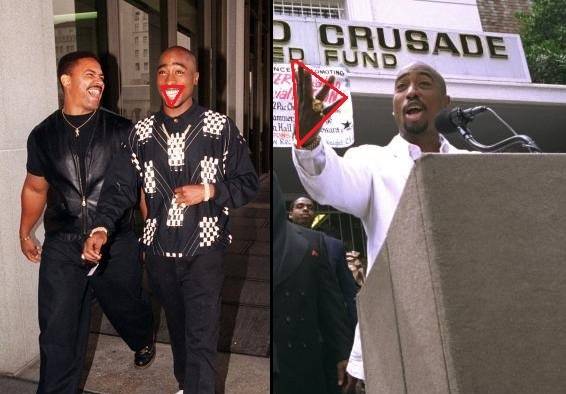 20 years on, is September 13, 2016, the day he returns? Is he plotting revenge against the Illuminati?
Featured image credit: PA
*If you've taken everything in this article as fact, then: mate, seriously?