BBC Journalist Is Shown Destroyed Family Home In Ukraine Live On Air
While covering the ongoing Russian invasion of Ukraine, BBC journalist Olga Malchevska was shown harrowing footage of her destroyed family home in Kyiv live on air. Take a look at the emotional moment below:
Speaking to news presenter Karin Giannone, Malchevska said: "When we agreed yesterday about coming to the studio in the morning I could not imagine that actually, at 3 am London time, that I would find out that actually my home was bombed."
In the shocking scenes, Malchevska continued to say what is happening while footage of her destroyed home is shown on the screen: "I can't believe, in my head, that what I'm seeing is somewhere that I used to be."
Malchevska also revealed that she had just heard from her mother after not being able to reach her, who has been taking shelter in Kyiv with the rest of her family.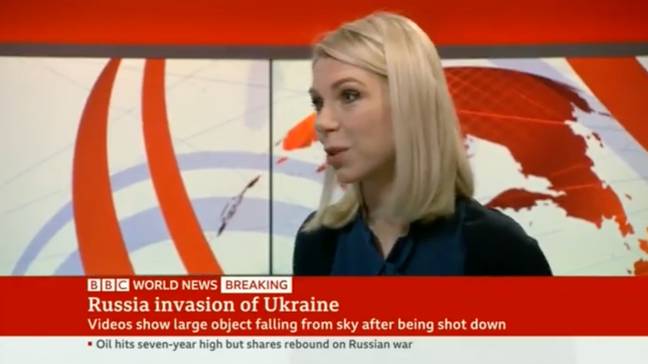 The video has since been posted on Twitter by Giannone, with the caption: "We did not know until that moment it was her actual building that had been hit.
"Thankfully, Olga's family is safe."
The nation has since launched an invasion by land, sea and air, hitting cities and bases with air strikes and shelling as terrified civilians flee.
Russian forces have reportedly taken control of the Chernobyl nuclear power plant, the site of the world's worst nuclear disaster.
Ukraine's President, Volodymyr Zelenskyy, said: "The invasion of Russia into Ukraine is not just an invasion, it's the beginning of the war against Europe.
"Against the unity of Europe. Against basic human rights in Europe. Against all rules of co-existence in Europe.
"Against the fact that European states refuse to divide borders by force."
Large explosions have been heard in many Ukrainian cities, and Ukrainian troops have been fighting to retain control of an airport just miles from Kyiv.
In an address to the nation, UK Prime Minister Boris Johnson said: "Today in concert with our allies we will agree a massive package of economic sanctions designed in time to hobble the Russian economy."
The PM described the invasion of Ukraine as the 'hideous and barbaric venture of Putin', who he said has brought a 'tidal wave of violence' to the country.
Ukraine has called upon anyone who is able to take up arms in resistance, and has banned men between the ages of 18 to 60 years old from leaving the country.
If you would like to donate to the Red Cross Emergency Appeal, which will help provide food, medicines and basic medical supplies, shelter and water to those in Ukraine, click here for more information.