Billie Eilish Gives The Performance Of Her Life As She Makes History At Glastonbury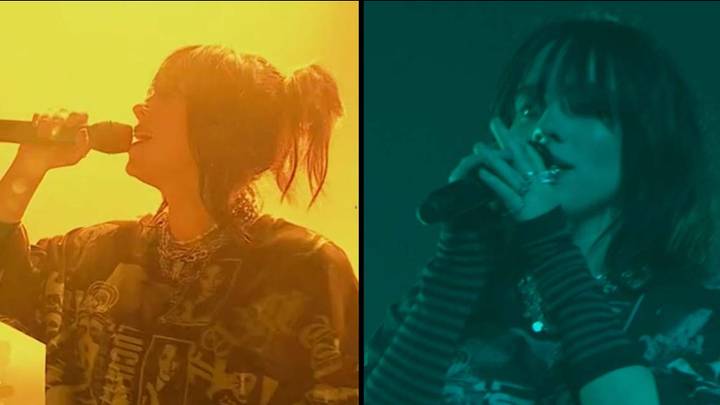 The Happier Than Ever singer, 20, headlined the first night of the iconic festival, which is also only celebrating its 50th anniversary. Watch below:
One of the main highlights from Billie's performance was her performance 'Your Power' with her brother Finneas.
Before performing the song, the star commented on the US Supreme Court's decision to overturn Roe V Wade earlier today.
Billie said of the decision: "Today is a really really dark day for women in the US. And I'm just going to say that because I can't bear to think about it anymore in this moment."
After finishing the song, she went on to reassure fans that they were in a 'safe' space and continued to reel off her incredible discography.
With fans taking to Twitter to share their thoughts on the singer, with one fan even likening her to Freddie Mercury: "She's absolutely f****** bossed that, 20 years old, full of confidence commanding an audience 100k strong like she's Freddie Mercury & the music is incredible too, Billie Eilish, take a bow. Glasto just saw one of its best performances in years."
Another fan added: "'Why is Billie Eilish headlining?' Maybe because at the age of 20, she's sold millions of records and is clearly entertaining the people in the crowd unlike Steve, aged 47, who's shouting at his telly wishing for Britpop to come back."
A third reiterated just how incredible it is that Billie is 20 and completely commanded the Pyramid Stage: "20 years old and headlining Glastonbury; regardless if you are a fan or not; that is something very very special! Billie Eilish is the festival's youngest ever headliner."
At 20 we were still asking our driving instructor to explain how a gear switch worked but you know, some people are late bloomers.
Billie Eilish @ #Glastonbury was the greatest live performance I've ever seen

Emotional. Up lifting. Exiting.

Transformative experience watching that. Wow.

— George_SteppenwolfZSJL (@George_Taylor94) June 24, 2022
So, what's next for Billie?
Well, she's not slowing down any time soon, because her Happier Than Ever tour continues at the O2 Arena in London tomorrow, 25 June.
Yes, tomorrow and she's got plenty more shows lined up after, which makes us, in the words of one eloquent Twitter user: "Emotion. Up lifting. Exiting."
Seriously though, that might be one of the best performances we've seen in a long time and Billie's not even old enough to drink back home yet.