If there's a food out there that perfectly sums up inflation, it's the Freddo.
There'll definitely be younger kids in the UK who walk into shops, look at the smiley frog on the front of a Freddo and go, 'yep, 30p, that's about right'.
It's only the older generations - yes, if you remember the cheap Freddos, you're old now - who know how ridiculous this is, with fond memories of swanning into the corner shop and seeing the 10p price branded on to the wrapper, making it tough for shops to charge a penny more.
Things us British can't believe:
* how cold it is
* how hot it is
* what the time is
* how much Freddos cost now

— Rachael (@RachaelvsWorld) June 27, 2019
Over the years, the ability to get a Freddo with a single round silver coin has well and truly vanished, and just this year it was revealed that the average price of the Cadbury's chocolate is now 30p.
It's not quite as bad as the increase in house prices, but since so many of us can't even think about buying a house, it's something we can all agree is an injustice.
"The true impact of inflation is reflected in the cost of a Freddo bar," one Twitter user writes, while another dubbed the rising cost of Freddos as one of the things they're 'becoming more and more afraid of' as they grow older.
However. There is a glimmer of hope; a chance to look into the past and see the 10p Freddos yet again, and it comes courtesy of the American consumer goods and food delivery company, GoPuff.
Now, I'll be the first to say that America isn't known for having the best chocolate, but you can rest assured this is Cadbury's classic, glass-and-a-half sweetness in the shape of the smiley frog we know and love.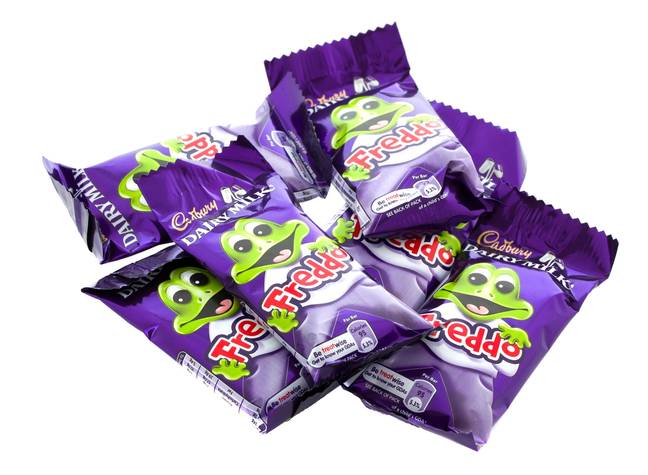 Starting from today (23 August), the company is discounting the price of its Freddos to 60p for a pack of six, and you don't have to be a mathematician to know that equates to the beautiful price of 10p per Freddo.
A release announcing the news explains: "GoPuff is turning back the clocks to 1994 when things were simpler, life was cheaper, and our happiness could be measured by the price of convenience store bought chocolate."
There's no minimum spend needed to get your hands on the Freddos, but there is a time limit on the deal, with customers having just one week to get their hands on the bars at 10p each before it runs out on 30 August.
The discount can be redeemed using the code FREDDO10, so make sure to make the most of it and stock up on the chocolate bars before, God forbid, they increase in price yet again.