Greggs customers stunned to learn food gets cold because they aren't actually kept in a hot counter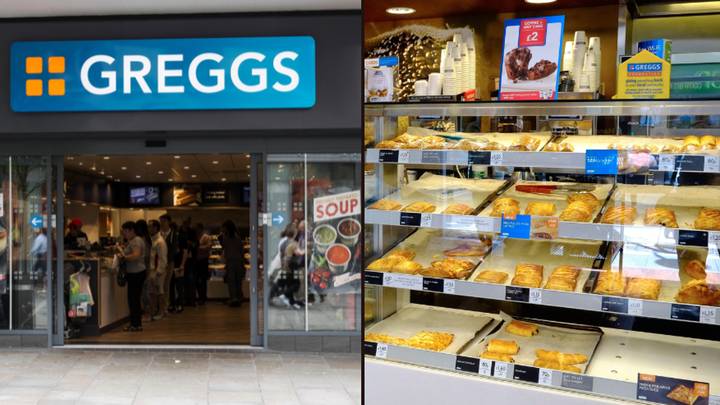 A Greggs worker has revealed the reason why some of their 'hot food' isn't always hot when you buy it, and it's really simple.
Going to Greggs is a pretty staple part of life in the UK, but so is biting into some pastry you'd expect to be warm (or even tongue scorchingly molten hot) and discovering you've sunk your teeth into something cold.
A Greggs worker took to Reddit to answer all the wonderful questions Brits have about the popular bakery, and one of the most popular questions was: "Why are the sausage and bean melts always cold?"
When you see the food on offer at Greggs, you get to see them behind the glass in a well lit counter, and you might expect this counter to be heated but you'd be very wrong to assume that.
They revealed that their hot food was 'not actually under a hot counter' so any heat you're tasting in your Greggs pastry depends entirely upon how long they've been out of the oven.
Advising people to 'get there at the right time' was the worker's solution to making sure that whatever you ordered wasn't stone cold by the time you wanted to eat it.
Of course, the only way to really guarantee you'll be getting a hot meal is to squad in Greggs and wait until a fresh batch of what you want most becomes available.
Several people said it was probably because of the 'pasty tax' which charges value added tax (VAT) for hot takeaway food but exempts other meals which are either served cold or cool down.
Basically, if a takeaway food is meant to be served hot you have to pay standard VAT on it, which stands at 20 percent, and that includes food that the bakery keeps hot for customers, while cold foods don't have to pay.
In a weird loophole, food which has just come out of the oven doesn't get hit by the tax, so if Greggs kept their sausage rolls and pastries warm, you'd have to pay 20 percent more.
People were stunned to discover the lit up counters in Greggs didn't actually keep food warm, with one person describing themselves as 'shook' and another saying the bakery had 'fooled us all'.
They said: "We sell savouries which are freshly baked in our shop ovens then put on the shelf to cool.
"We don't keep them in a heated environment, use heat retaining packaging, or market them as hot because of this. As bakers we believe that baking our savouries fresh each day gives customers the best quality product."
"If the sausage rolls and bakes were kept hot after they had been baked, then they would be subject to VAT and the customer would have to be charged a higher price, in the same way that we charge VAT on our hot sandwiches which are kept in a heated cabinet and are subject to VAT."
In the same thread, it was revealed that the markings on a Greggs pasty are actually a secret code which lets staff know what's inside at a quick glance.
If there's 'V' shaped markings in the pastry you'll know it's a vegetarian friendly cheese and onion slice, while straight lines mean you're looking at a sausage and baked bean melt.
Sadly, if there's something from the menu you really loved and want to know where it's gone, the answer is probably 'discontinued'.