Highest scoring Scrabble word could score a maximum 1778 points
So, there's just a few more days to go until Christmas, which means you've probably picked out a few board games to play with your nearest and dearest on the big day.
The standard options are generally your Monopolies, your Cluedos, maybe even an Articulate or Pictionary.
Whatever you choose to play, though, there is one certainty: someone - generally dads - will tip the board in frustration and storm out.
And if you are gonna whip out the Scrabble board for some after dinner lexical larks, then we've got just the thing to bring tensions to the surface.
Because, after all, isn't that the true meaning of Christmas?
Anyone who's played the game will have tried every trick in the book to score as many points with as few tiles as possible.
But while using 'ZA' or 'QI' might get you a couple of dozen if placed correctly, there's one word that will blow them out of the water and end the game in one fell swoop.
I give you 'OXYPHENBUTAZONE'.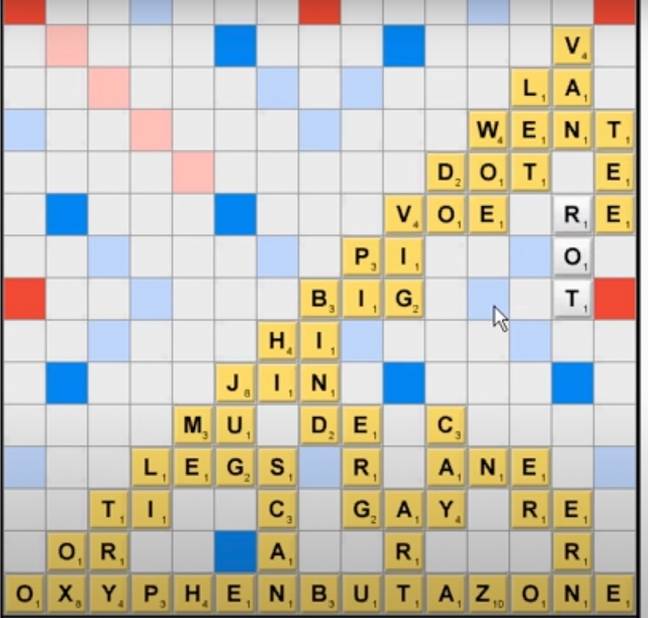 If you manage to get this beast out during a round, and it's placed in the right spot, you stand to score a whopping 1,778 points.
And if one of your very bitter opponents asks you what the definition is, you can tell them that it's a nonsteroidal anti-inflammatory drug.
However, this is all theoretical. The chances of actually being able to play the word are virtually impossible.
A champion Scrabble player recently shared his secrets of the game to help others become stronger opponents – explaining how there's one misconception everyone has about how to score well.
Howard Warner, from New Zealand, is a two-time winner of the WESPA Senior Scrabble Championship who first started playing board games as a kid, before joining a club in his early 20s after moving to a new town.
"The big misconception is that it's about words," he explained.
"Another big misconception is that the only way to score well is to get on the triple word score.
"For Scrabble, it's more about letter combinations that are used for scoring points. So it's a very mathematical game.
"And it just so happens that many of the top players are also very good bridge players, chess players, poker players. They're applying the same sort of numerical and strategic approaches to those games.
"The only difference is, instead of working with spots on cards or imitation soldiers, they're working with letter combinations."