Saudi Arabia Issues Driving Licences To Women For The First Time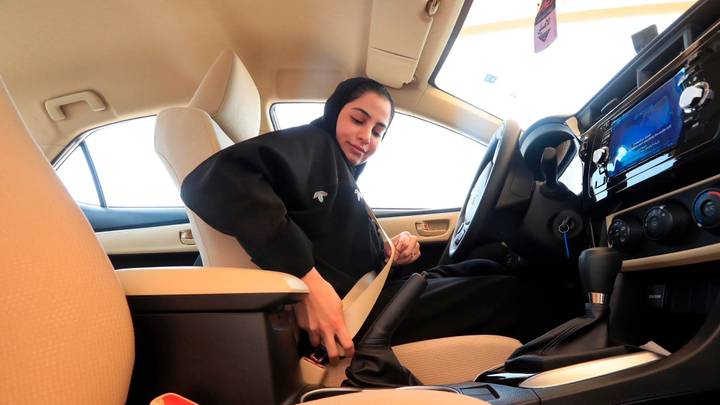 It's no secret that women haven't exactly had equal rights in Saudi Arabia for a long time. But the tide is slowly turning in the Middle Eastern county, as its female population is gradually allowed more freedoms.
Over here, it's almost a rite of passage to get your L-plates when you come of age but for women in Saudi Arabia, that's never been the case. In recent years, it's remained the only country in the world that prevented females from getting behind the wheel.
But as the change is implemented, the Saudi Information Ministry has now released photos of the first 10 women to get their driver's licences.
Esraa Albuti, an Executive Director at Ernst & Young and Tahani Aldosemani, Assistant Professor at Prince Sattam Bin Abdulaziz University in Al-Kharj were among the group of 10 to get their mug plastered on a licence.
They had to undergo a mandatory eye check and test before getting their cards at the traffic department in the capital, Riyadh.
Women around the country have been similarly gearing up for their tests as the government prepares to end the ban on 24 June.
Before this change, they would have had to rely on a male relative, taxi or have a driver cart them around, which understandably can not only be costly but can be a pain in the ass. Especially when you just want to drive around by yourself with beats blaring. Just me?
The decision to reverse the ban was made last year in September by King Salman and it was supported by the Council of Senior Religious Scholars.
So what reasons could there possibly have been for the country to prevent women from driving?
Well, there's the idea that if a woman were to get behind the wheel, her face would be uncovered, for a start. Plus it would mean that women would leave the house more.What's more, they could get into car accidents which would hypothetically mean they'd have to interact with a man.
One of the most baffling reasons was that it would put more cars on the road, which would frustrate blokes.
There have been numerous protests over the years by activists, with the most notable happening in 1990 when 47 Saudi women jumped in separate cars and drove through Riyadh. They were taken into custody and released when their male guardians signed a statement ensuring they wouldn't drive again.
It will be interesting to see how the country copes with the massive influx of female drivers in three weeks.