Strange purple flying QR code made of drones appears in the sky over London
A strange flying QR code made of drones lit up in purple appeared in the sky over the River Thames in London on Wednesday and Tuesday evening - and nobody is entirely sure why.
The drones traced weird pattens - which may have made sense to the guests present - in the sky above the capital before forming a QR code linking to the set on insurance company Beazley.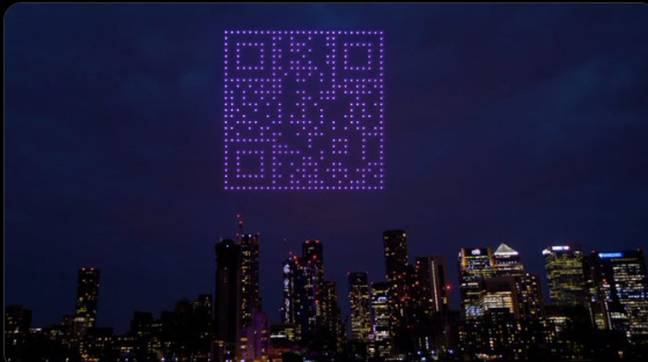 The purple code was made up of several hundred drones, which arranged themselves into a few seemingly random shapes including a coat stand and a paper plane and the brand's logo before settling into a large, scannable code, which hovered for around 20 seconds.
Beazley told Insider that the 400 drones were tied to a company event being held at Magazine London, an event space next to the river as they hosted a company event for 700 people that included the spectacular drone snow.
Beazley also said the drone show was the largest ever in London for a private event.
A spokesperson for the Port of London Authority, which regulates drone flights in the area, told Insider they knew about the mysterious drone flight but weren't able to provide further comment until Friday.
Drone shows like this usually to mark a big celebration like London's New Year's Eve celebrations since 2021, Coachella and a variety of events for the Royal family.
Flying QR codes are not a frequent sight in the UK, but have been see elsewhere in the world, including Shanghai, China, in 2021.
Beazley have boasted that this demonstration 'spans higher than Big Ben' and featured more drones than were used at the Queen's Diamond Jubilee.
The company hasn't always been putting on displays to such a glamorous audience, they've said their first ever drone show was watched by '50 cows, 300 sheep, 2 chickens and 1 camping broker'.
They also said it would be the first drone show that would bring a halt to traffic on the River Thames.
The company plans to stage another major drone demonstration next month in May, though precisely when and where is for them to know and us to find out.
LADbible has contacted Beazley for a comment.