Russian Presenter Who Hijacked Broadcast With Anti-War Message 'Missing' After Being Arrested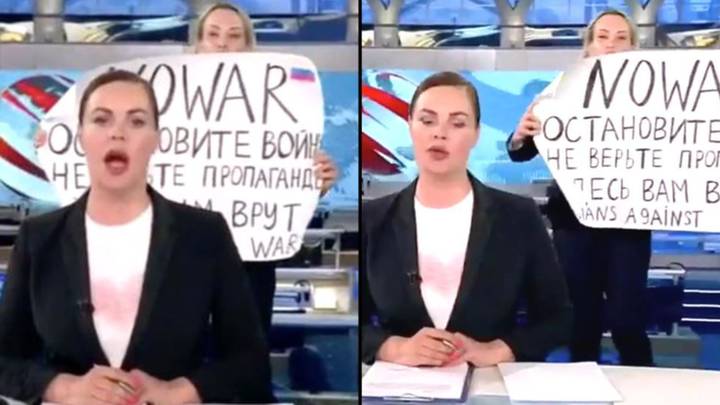 The Russian TV editor who interrupted a live news broadcast with an anti-war message yesterday (Monday 14 March) is feared to have gone missing after being arrested, according to her lawyers.
Channel One editor Marina Ovsyannikova burst onto the set of the daily news bulletin last night (Monday 14 March), shouting: "Stop the war. No to war."
Standing behind the newsreader, she also held up a large sign that read: "Don't believe the propaganda. They're lying to you here."
In English, the sign added: "No War... Russians against the war."
Ovsyannikova has since been arrested, according to OVD-Info human rights group. Pavel Chikov, head of of the Agora human rights group, also said she had been taken to a Moscow police station.
Danill Berman, one of her lawyers, said he expected her to be held initially for 15 days on an administrative charge, and then face arrest on a criminal accusation with a more serious custodial sentence likely. However, he said there was concern that she was being held in a secret location where her legal representatives could not see her.
Ovsyannikova was initially held for three hours in the duty room at the channel's Ostankino television centre headquarters in Moscow.
Berman said he was not permitted to see her, adding: "They want to scare a lot."
Chikov, who is also acting for Ovsyannikova, said today: "Marina's whereabouts have not been established yet.
"She has been detained for more than 12 hours."
Women's rights activist Alena Popova said: "Where is Marina Ovsyannikova?
"Her whereabouts now are unknown.
"The lawyer wasn't allowed to her.
"Remembering torture and violence in Brateyevo police station, I am very worried for Marina. According to the law, she can not be arrested because she has two small children."
Ovsyannikova had shared a video online shortly before her stunt at the Channel One studios, speaking to the camera as she condemned the war and Russian President Vladimir Putin.
She also apologised for her work on the Kremlin-controlled news channel, which has broadly covered up news of the invasion.
Ovsyannikova said: "I've been doing Kremlin propaganda and I'm very ashamed of it – that I let people lie from TV screens and allowed the Russian people to be zombified.
"Now the whole world has turned away from us, and ten generations of our descendants won't wash off this fratricidal war," she said, as she called for people to take to the streets to protest the war, concluding the video by saying 'they can't arrest all of us."
According to CNN, he said in a Telegram video message: "I am grateful to those Russians who do not stop trying to convey the truth. To those who fight disinformation and tell the truth, real facts to their friends and loved ones."
He went on to directly thank Ovsyannikova, saying: "And personally to the woman who entered the studio of Channel One with a poster against the war."
Zelenskyy added: "To those who are not afraid to protest. As long as your country has not completely closed itself off from the whole world, turning into a very large North Korea, you must fight. You must not lose your chance."
In a statement published by state news agency TASS, Channel One confirmed that 'an incident took place with an extraneous woman in shot', adding: "An internal check is being carried out."