Senior Doctor Issues Monkeypox Warning To People With New Sexual Partners
Dr Susan Hopkins, a chief medical adviser for the UK Health Security Agency (UKHSA), has warned more cases of monkeypox are being detected daily across the UK.
Dr Hopkins warned cases are predominantly being seen in people who identify as gay and bisexual and that the virus is spreading through community transmission.
The UKHSA has now confirmed 20 cases of the disease in the UK, but Dr Hopkins said updated figures will be released on Monday, 23 May.
Speaking on BBC One's Morning Show, as the Independent reports, Dr Hopkins said: "We are detecting more cases on a daily basis and I'd like to thank all of those people who are coming forward for testing."
She added: "We are finding cases that have no identified contact with an individual from west Africa, which is what we've seen previously in this country.
"The community transmission is largely centred in urban areas and we are predominantly seeing it in individuals who self-identify as gay or bisexual, or other men who have sex with men."
Dr Hopkins also recommended that anyone who is frequently changing sexual partners should visit a health centre if they have developed a rash.
While there is no 'direct' vaccine for the virus, Dr Hopkins did note that health officials are currently using a 'third-generation smallpox vaccine' on those who have come into contact with infected individuals.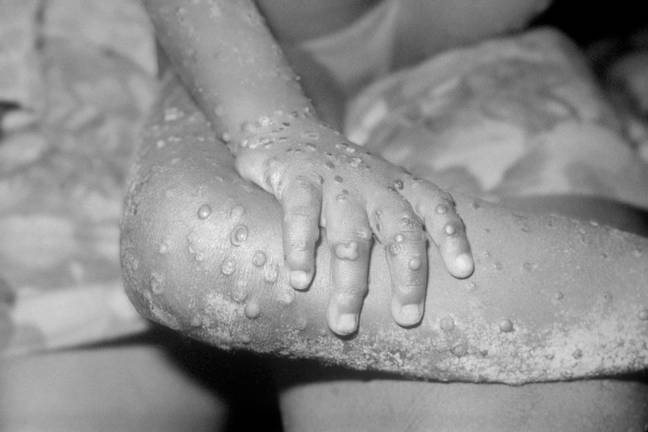 "We're not using it in the general population [but] in individuals who we believe are at high risk of developing symptoms," she added.
The UKHSA is working with the NHS to determine exactly where and how the most recent cases acquired infections.
The disease was first found in monkeys and can be transmitted via close physical contact, spreading through bodily fluids or close face-to-face contact in breath droplets.
The first UK case is thought to have arrived when someone travelled over from Nigeria, but recent cases don't have known connections to countries where monkeypox is endemic.
Connor Bamford, a virologist at Queen's University Belfast in Northern Ireland, told LADbible last week that humans will often initially pick up the virus through contact with infected bodily fluids of rodents likes rats, mice and squirrels found across western and central Africa.
Bamford also said the general public 'should not be too concerned' given the relatively poor ability of the virus to spread from person to person, noting that there is about a 10% chance of onward spread.