TUI To Cancel Hundreds Of Flights Next Month Causing More Travel Chaos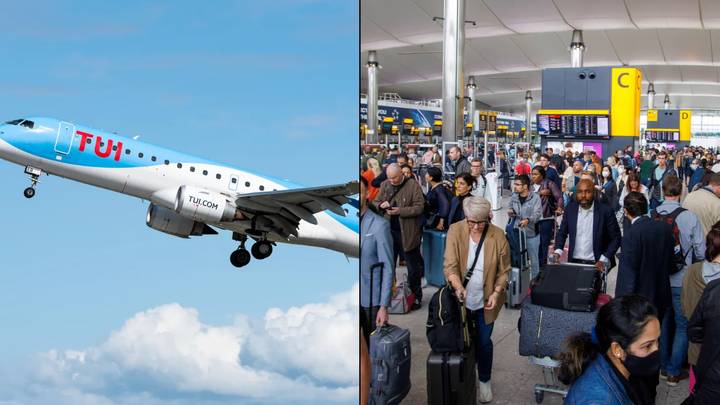 Holiday firm TUI has announced it is going to cancel almost two hundred flights from Manchester Airport next month, plunging thousands of holiday plans into chaos.
According to the BBC, TUI is putting the decision down to staff shortages and has taken the decision to cancel six flights a day from Manchester Airport until the end of June.
Airports around the UK are suffering from long queues as high passenger numbers and fewer staff are causing chaotic conditions.
Customers on flights which have been cancelled will be in line for a full refund paid within 14 days, 'as well as an extra gesture of goodwill'.
The company said it took the 'incredibly difficult decision' as it deemed it 'necessary to provide stability and a better customer service'.
TUI released a statement which said: "We would like to apologise to our customers who have experienced flight delays and cancellations in recent days and understand that many of our customers have been looking forward to their holiday with us for a long time.
"We understand how disappointing this will be for those impacted; however, we believe this is necessary to provide stability and a better customer service at Manchester Airport.
"We will continue to work closely with all our airport partners and suppliers so we can provide the best possible holiday experience for our customers."
They also confirmed that the cancellations of 43 flights a week are for Manchester Airport only and they have no plans to cancel other flights.
It's bad news for thousands of holidaymakers who had been planning to get away this bank holiday weekend, which is set to be one of the busiest period for air travel this year as around two million people have flights booked.
These are the first school holidays in England and Wales since the lifting of all coronavirus restrictions and as such it's the first proper opportunity many families have had to go abroad in the last two years.
Airports are hiring more staff to make up for those who lost their jobs during the pandemic, though training takes a long time and many who are going through the process won't be ready to start working next month.
The Guardian reports that there are concerns this busy summer could see a travel bubble as huge numbers of families looking to get away for a bit after two years of restrictions pile into the airports, only for that figure to drop off sharply come the autumn.
Featured Image Credit: Alamy
Topics: Travel