Woman giving away coffin after 'husband lives longer than she'd hoped'
A woman has gone viral after attempting to give away a particularly unusual item on Facebook, having listed the 'brand new coffin' that she bought for her husband.
The online marketplace is a treasure trove of bargains and freebies, even if it sometimes requires a prolonged period of scrolling to get to the good stuff.
But many users were baffled when they saw a coffin listed for free, with the seller – who is based in Oban, Scotland – writing: "Giving away a brand new coffin. Bought it for my husband but he has lived longer than I had hoped and expected so no longer required and it's cluttering up my house.
"Pillow not included as my dog has taken to it.
"I am in Easdale but can deliver within reason. Just to add I cannot deliver to Mallaig as I am banned."
Naturally, the description offered raised more questions than it answered. Why did she buy her husband a coffin? Why is she banned from Mallaig?!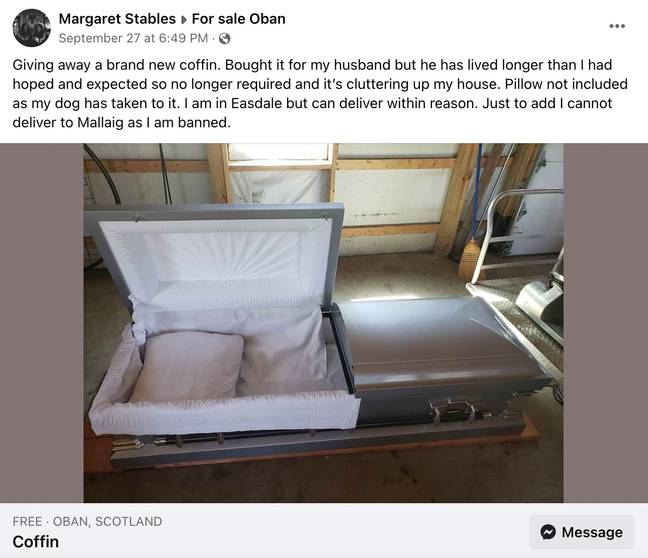 The post soon went viral, racking up more than 1,000 reactions, 1,600 shares and 1,000 comments.
"This is the funniest post I've ever seen," on Facebooker wrote.
"This is a joke right?" another asked.
A third quipped: "Nice single bed that for someone who just moved into a flat."
Another baffled user said: "Why are you banned from an entire town?"
Amazingly, the seller was more than happy to offer up more of an explanation about her ban from Mallaig, a port town in Locahber, on the west coast of the Scottish Highlands.
She said: "Hoorova long story about Mallaig. Was one Hogmanay when things went a wee bit too far at the Marine Bar with some men my husband works with offshore.
"Long story short I was papped out the marine, barred from the west highland then was no longer permitted past the west bay car park boundary."
Again, more questions raised than answered, but still.
Many others also questioned whether or not her post was legit, or if it was simply a wind-up.
"I was genuinely interested til I realised it was just an attention/likes post," one said.
But the seller insisted: "Guy MacDonald sorry to disappoint you but it's actually genuine."
Well, if you're in the market for a free coffin to pick up from Oban, you know what to do.