Woman who's lived in the same house for 105 years says she'll never leave
A woman who has been living in the same house for 105 years says that she has no intention of moving out ever.
To be fair to her, why would you move out at this stage?
Elsie Allcock has been living in the same small house in Huthwaite, Nottinghamshire, for well over a century, and in that time she's seen a lot.
The mum has seen two world wars, loads and loads of prime ministers, and the turn of a millennium in her gaff, and intends to stay there until the end of her life.
She was born there, lived there with her husband after they bought it for £250, which was a lot of money at the time, and raised her children there.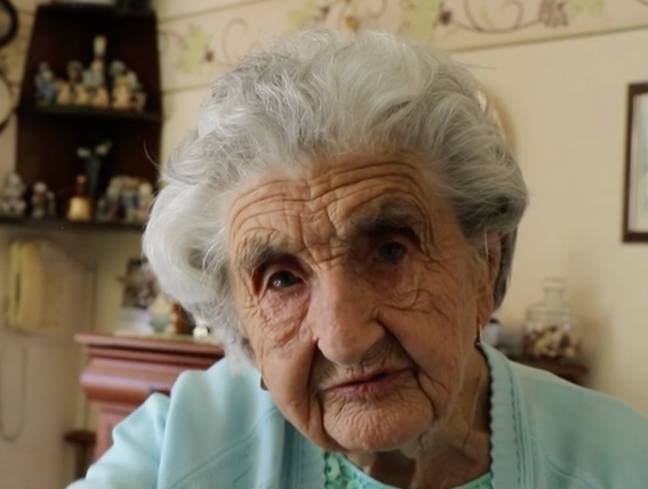 She still lives with her son Ray, who is well into his 70s, in the house now.
Elsie has two children, six grandchildren, 14 great-grandchildren, and 11 great-great-grandchildren.
The one constant over the years – apart from Elsie herself – has been the two-bedroom house that she has always inhabited.
"I was born here and they'll take me from here," she told ITV News.
"I never really wanted to move anyway."
"I've never left and I won't. They'll have to take me from here," she added to BBC News.
It's the simple things in life that matter, and – when you're 105 years old – having a house that is familiar must be a comfort.
Elsie is still active despite her grand age, and keeps active, as well as knitting, doing puzzles and word searches.
Her son Ray said: "You come in the house and you don't find her.
"She's either upstairs or in the yard doing something.
"I guarantee now if you look in her pocket there's a duster.
"She's always at it, you can't make her stop."
When she moved into the house, it didn't have electricity or modern comforts, with a penny-operated gas light the only luxury.
"If you haven't got a penny, you haven't got no light," Elsie explained.
"She's marvellous, she is," the son added.
"She puts me to shame, she's more active than I am."
However, despite her story going viral on social media, Elsie remains baffled by the attention.
"I don't know why they are [interested in the story] because I'm not important, I haven't done anything important," she said.
"I mean, I've lived her 105 years – not many can say that, is there?"
Featured Image Credit: BBC
Topics: UK News