Man survived attack after landing on shark in 'shark bite capital of the world'
A man miraculously survived a shark attack after landing right on top of the predator, having been surfing in an area known as the 'shark bite capital of the world'.
Brandon Boncore, 22, had been surfing at New Smyrna Beach in Volusia County, Florida – a spot he'd been to hundreds of times before, knowing the risks involved.
However, his surf session on Monday 31 July didn't end quite as successfully as previous trips to the beach, located along the east coast between the Atlantic Ocean and the inland waterways of the Indian River.
Boncore was paddling back to the shore when he was suddenly bitten by a shark, which left him requiring emergency medical care.
"I felt it, and I was just like, 'Oh c**p, not me," he told WKMG's Click Orlando.
Boncore said he had even seen a few sharks beneath him as he surfed, but didn't seem too bothered at the time.
"Actually, on my first wave I saw two or three right under me, I just saw a couple of shadows," he recalled.
"In New Smyrna, that's kind of normal."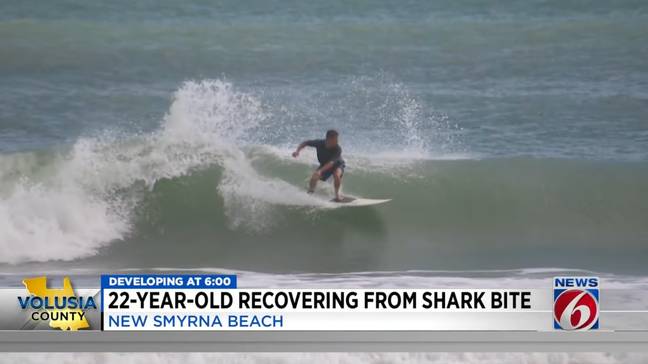 However, when he went to paddle back to shore, Boncore ended up landing right on top of a shark... which, needless to say, it wasn't best pleased about it.
"It bit me right in the foot," he said.
"And I just took my right foot and kicked it off and kind of jumped on my board and looked back. First thing I thought was, 'Are my toes there?'"
The incident marked the fourth bite of the year in Volusia County.
Fortunately for Boncore, he had been surfing next to a paramedic, who quickly called 911 and helped him while they waited for emergency services to arrive.
"There was just a lot of pressure on my left foot," he said.
Boncore had to have several stitches and now must stay off his foot for a month.
However, he vows to get back in the water as soon as he can – even though his pal Chris Pospisil was also bitten by a shark in the same place two weeks ago.
"I know the risks, but I love it so much that I just want to go surf," he said.
Well, you've certainly got bigger balls than me, pal.