Baby Yoda Spotted On Board SpaceX's Crew Dragon During Launch To ISS
A group of astronauts took an adorable companion on board with them as they launched into space:
Keeping with tradition, the NASA and JAXA crew took their 'gravity indicator' on their flight to the International Space Station and kept it a secret until the big reveal.
NASA astronauts Shannon Walker, Mike Hopkins and Victor Glover, along with Japan Aerospace Exploration Agency astronaut Soichi Noguchi launched from the Kennedy Space Center on Sunday night (15 November).
After the crew embarked on their journey in the SpaceX Dragon capsule their companion was revealed as Baby Yoda from the Disney+ show The Mandalorian.
The crew members kept Baby Yoda a top secret until they reached zero-gravity and their fifth passenger popped out.

Earlier this year, NASA astronauts Bob Behnken and Doug Hurley got a little help from their children when it came to choosing their gravity tool.

Doug and Bob both have sons who love dinosaurs and so they let them choose one of their toys to go to space with them - and Tremor, a sparkly apatosaurus, was the winner.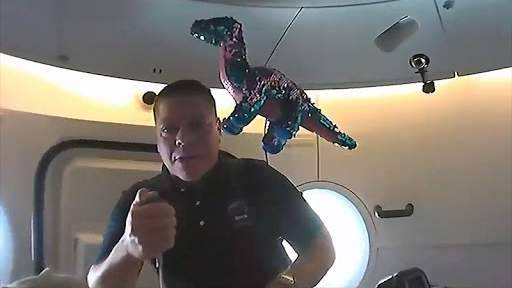 Speaking during a tour of the capsule, Bob said: "That was a super cool thing for us to get a chance to do for both of our sons who I hope are super excited to see their toys floating around with us on board.

"I'm sure they would rather be here, given the opportunity, but hopefully they're proud of this as well."
Footage from on board the Crew Dragon craft revealed a small, sequined dinosaur toy floating about the capsule, experiencing zero gravity as the pair focused on their work.
Shortly after Tremor won the hearts of viewers, the SpaceX website featured a new product called a 'Demo 2 Dinosaur Plush Toy', priced at $25 (£20.25).

However, it is no longer on the site - so either they sold out rapidly, or SpaceX has inexplicably had second thoughts about selling the toys.

This Demo-2 mission was a way for SpaceX to show it can safely take astronauts to the International Space Station, and get them back in one piece.
It was the final step on SpaceX's journey to being certified by NASA's Commercial Crew programme for regular flights carrying astronauts to the International Space Station.
Yesterday's launch was the first NASA-certified commercial human spacecraft system in history.