Wes Nelson publicly called someone out for peeing on the floor during the N-Dubz reunion show earlier this week.
In case you missed it - the band were actually forced to stop, mid-performance, after fights broke out during their show in Bournemouth on Monday (14 November). You can see the person being called out for peeing here:
Tulisa, 34, Dappy, 35, and Fazer, also 35, have reunited to put on a string of gigs across the UK - but it all kicked off during their appearance at Bournemouth International Centre, with fights breaking out and claims that fans were passing out.
And that's not all - Wes Nelson very publicly called someone out for pissing on the floor during the performance.
In a clip shared on TikTok, he could be heard telling the packed crowd: "That's not nice. Oh s**t - Bournemouth!"
He then started booing whoever it was, before continuing: "That's dirty bruv. That's the last thing you expected at Wes Nelson set, innit? Someone pissing themselves.
Oh s**t. Where do we even go from there? What do you do when someone pees on the floor? F**k it, we go onto the next one."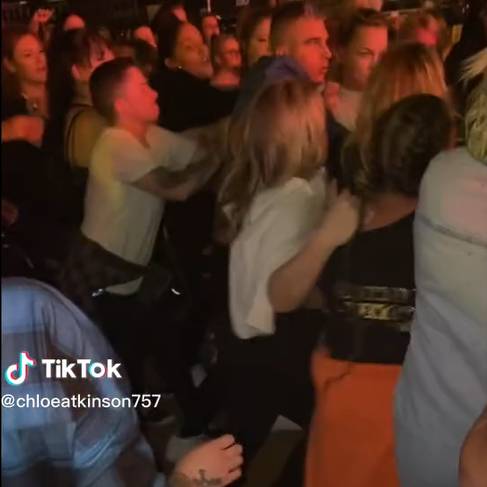 As Nelson announced the 'pee on the floor', the crowd could be heard groaning in disgust.
Using the floor as an impromptu urinal wasn't the only lowlight of the night - as one witness said she saw 'so many fights' breaking out.
The witness, who did not wish to be named, spoke to The Sun after witnessing the fights happen at a balcony seating area.
She said: "There were so many fights in the crowd down below and it really scared me.
"Security did their best to throw the trouble makers out but people were so frightened.
"N-Dubz had to keep stopping the show as some began passing out in panic and needed help from the medics."
She added: "The worst was seeing people peeing on others. It was disgusting.
"I'd been looking forward to this concert for months but it ending up being a horrible experience to be there."
Others took to social media to share what they'd seen, with one person posting: "So many fights at N-Dubz tonight, so embarrassing and I feel bad for them having put these shows on, just for there to be fights every night."
A second added: "N-Dubz were sick and that's a childhood memory ticked off the bucket list. However the crowd was a different breed, 3 separate fight incidents and 2 medical issues…"