A woman has claimed that a real estate agent showed her house to a group of hopeful home-owners, despite it not being for sale. Watch below as she caught the bizarre footage on her Ring doorbell camera:
The viral vid appears to show a real estate agent ringing the doorbell while he waited for his clients to arrive.
The homeowner, who goes by the TikTok handle @busymomonli, says she and her husband were at work while their son was in school when the unexpected incident happened.
In a voiceover, she explained: "So I'm at work last week and this guy rings on my bell. I can see him through my ring camera app but no one is home. My husband and I are both at work my son is at school.
"[There are] clearly no cars in the driveway but he is standing there waiting for someone. A car pulls up... about three or four people. Additional people get out.
"There standing in the driveway looking at my house, I'm thinking maybe they're some religious group or salesman, or I am not sure at this point."
After the clients arrive, they walk to the side of the property, to which the homeowner 'set the alarm off on the ring cameras'.
The group of people react to the alarm by walking to the front of the home, before the realtor apparently let himself in through the back door, in order to let clients through the front.
She added: "Now mind you, my dog is home, apparently not a very good guard dog but she's home and they proceed to go in.
"They spend about 20 minutes opening every closet door, cabinet, you name it. They leave they lock up like no one was there."
In a follow-up-video, she claimed that police showed up to 'confront them in the driveway'.
She said: "Must have been a slow day for the police because they were many many police officers in about seven top cars."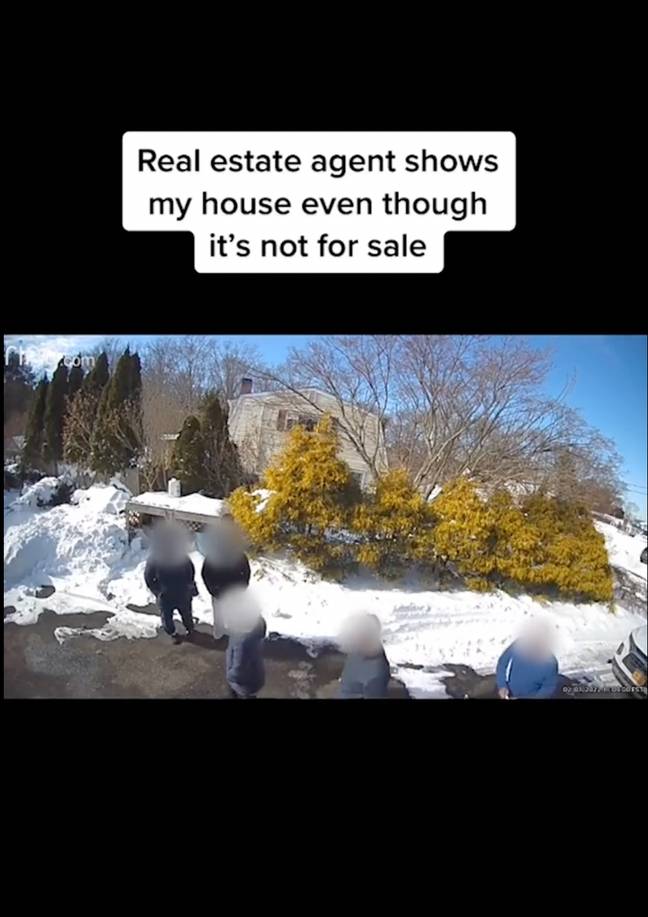 The cops apparently entered the home to confirm that nothing was stolen and the realtor opted to enter the home again to apologise.
"I don't believe that they were casing my house or trying to sell my house out from under me. He did seem sincere," she said.
Even though this appears to be a harmless mistake, fellow TikTokers don't seem to see it that way.
"I'm a realtor. You should sue him and file a complaint with the real estate commission! This is so illegal, he should lose his license," one user commented.
"You could totally sue his real estate company. A bunch of strangers just cased the entire insides of your property," said another.
It remains unclear which police department came to the scene of the incident and where exactly it occurred.