Chris Eubank Jr fires back at Liam Smith after he asks him about sexuality during press conference
Things got heated between Chris Eubank Jr. and Liam Smith's during the press conference ahead of their fight.
Before the pair get in the ring on Saturday night (21 January), they had their final verbal bout, and the topic of Eubank's sexuality came up:
The pair will go head to head in front of a sold out crowd at Manchester Arena, in what is a hotly-anticipated fight.
And it's safe to say that there's no love lost between them after their final press conference yesterday (19 January).
While boxers are known for getting quite nasty when it comes to the comments they make ahead of fight night, Smith took a strange turn when he began grilling Eubank about his sexuality.
Speaking during the event, the 34-year-old asked this opponent why he didn't have a girlfriend or wife.
"Has anybody in this room ever seen you with a girl?" Smith asked. "Have you got something to tell us?
"Really, cause you're 33... you said on the programme, you know, 'When you have kids'?
"Do you want to tell us so?"
He went on: "You put pictures up in Neymar in limousines, do you want to tell us, because nobody in this room has ever seen you with a woman."
Hitting back, Eubank Jr told the Scouser to mind his own business.
"Listen, my private life is my private life," he said. "You know, that's that's irrelevant to the boxing. But you know, listen, I'm happy, I'm comfortable."
Continuing his bizarre attack, Smith went on: "Have you got something to tell us? You're 33, you're going on about having kids, you've got to have a woman to have kids.
"Like, do you want to tell us something, no one's ever seen you with a woman."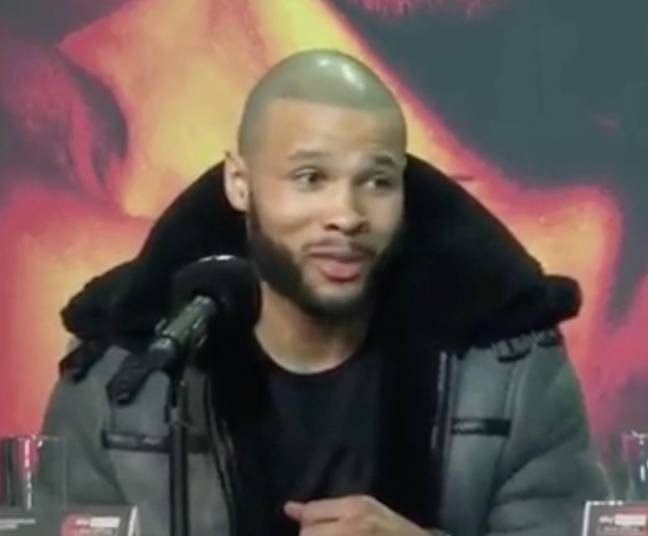 Eubank Jr said it was a 'personal question' to ask someone.
Smith then claimed that he 'was not that type of way' himself and that he 'liked women'.
Clearly, and understandably annoyed by the comments, Eubank Jr went on the attack.
"I used to think Tony Bellew was the biggest arsehole to come out of Liverpool, but I think Liam has definitely taken the number one spot, it's impressive," he said.
Smith then jumped in: "Come on, just tell them!"
To which Eubank Jr replied: "You're asking me if I'm gay, you're asking me about my beard and my hair.
"If you want to get personal with it, if you want to get darker personal with it, you know, talking about being gay and do I like girls, you know, I've been told by multiple sources that you cheat on your wife on every occasion."
Adding: "I'd rather be gay than a cheat."
Both men have since apologised for the their remarks, with Eubank saying the conference 'escalated quickly'.
He said: ""Everybody reacts in different ways to getting ready to fight another man," he said.
"He's so hellbent on trying to prove he's not rattled that he just went off the rails and I had to put him in line. We both went there, it got personal. That's OK.
"Boxing is personal, fighting another man is one of the most personal things you can do. So I get it."
Smith described his comments as a reaction to Eubank's past jibes.
""I just replied to some of stuff," he said. "I don't hate the man but I just don't like him. I'd never have a cup of tea with him.
"We're two polar opposites. I don't hate the man, I don't go to bed hating him."