Paddy The Baddy's chef shows 1,500 calorie meal plan fighter follows to lose weight
Paddy 'The Baddy' Pimblett's personal chef has revealed what he eats in a regular day in the lead-up to a fight, and you might be a little bit surprised by what you see in the video below.
Well, all the successful ones are really diligent about it, anyway.
Cutting weight and bulking up on weight are just parts of the routine for the professional fighter, and Paddy is no different.
So, as he gears up for another fight in a couple of weekends against American Jared Gordon, let's have a look at what he is using as fuel for the training.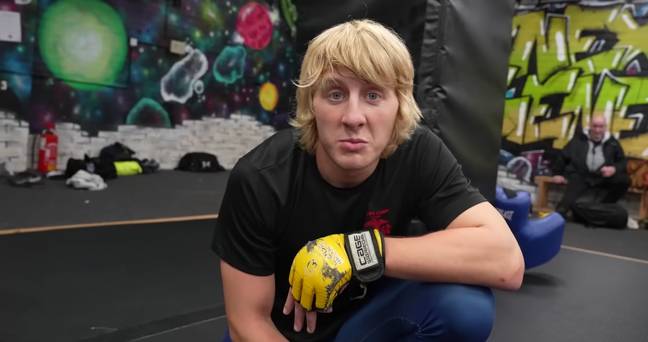 He's lucky enough to have someone who takes care of all his meals when he is in camp, and he's even luckier that his chef used to be an MMA fighter himself, though he only fought once.
That means he knows exactly what he needs to keep going, whilst also maintaining the calorie deficit that the 27-year-old Scouse scrapping sensation needs to keep weight off ahead of his bout in Las Vegas on December 11.
In a recent vlog on his YouTube channel, Paddy introduced Joel McCarthy from The Macro Chef, who plans out what he eats in training.
Pimblett went on to say that having his meals prepped for him 'makes my life 10 times easier' describing them as 'delicious scrans' to boot.
So, to start the day – although the menu changes – he usually starts with a protein granola pot or some overnight oats, at about 350 calories.
Then, at lunchtime it's a cold sandwich like a chicken salad wrap or a barbecue chicken burrito, coming in between 450 and 520 calories.
For dinner, it's quite a bit similar but this time a hot meal.
Pasta with meatballs at around 470 calories or a wagyu beef burger and sweet potato fries at around 500 calories.
Speaking about how he plans around Paddy's specific tastes, Joel said: "Paddy is very particular about what he likes veg-wise.
"Doesn't like peppers but he likes cabbage, doesn't like mushroom but he likes peas.
"Onions and beansprouts are an absolute no-go.
"My whole kitchen – all my team – are just on it to keep any onions away from Paddy's food."
After all that, it's time for a sweet treat, which Joel says is Paddy's 'number one' and his 'favourite thing'.
It's a chocolate protein tray cake that contains around 220 calories, or a protein cookie at around 230 calories.
In total, Paddy consumes around 1,400 to 1,700 calories in a day, which is exactly the kind of deficit he needs to be in if he's to make weight for his fights.
Paddy 'The Baddy' Pimblett takes on Jared Gordon as the co-main event of UFC 282 on December 11.
That event will be shown on BT Sport in the UK, with the main card set to start at around 1:00am.