A number of people have taken to TikTok to share evidence of the roads succumbing to the heatwave over the past few days, as temperatures have soared to 30C in certain regions.
In one clip, captioned 'the road was melting', an Australian living in the UK, says "This is how true our heatwave is", while turning the camera to the ground.
She then picks up pieces of what appears to be melted tarmac, adding: "Our tar - because I've been picking it, you see - has melted on the road."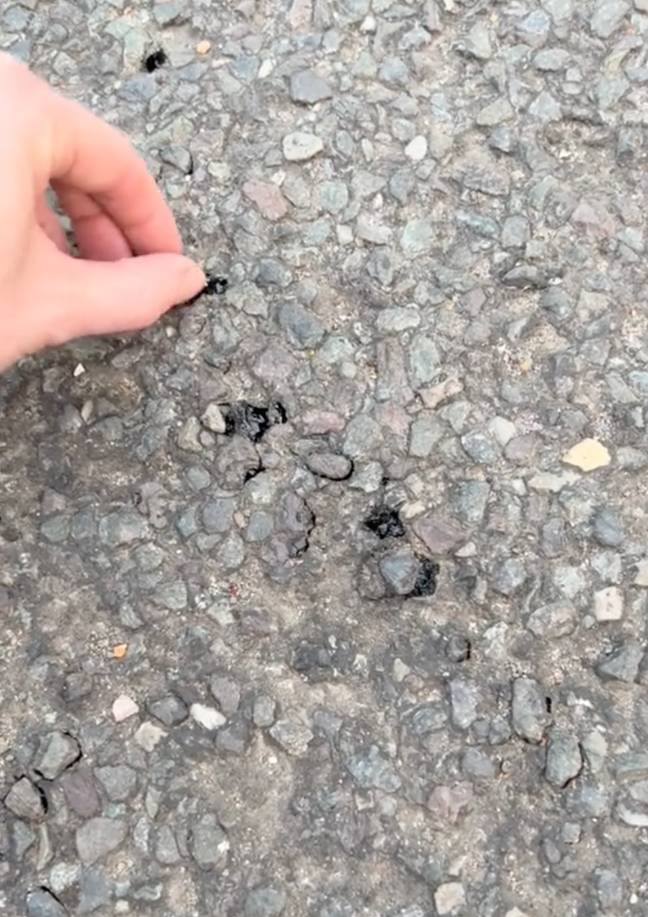 Comparing the situation to the heat in Australia, she says: "We can now pull out all the pieces like we did in Darwin."
Another video shared by user @travelgal39, captioned 'melting roads', shows a mum walking on a road that's so hot, her shoes stick to the tarmac.
When she lifts up her shoes after walking around on the sticky ground, you can see the once white soles have turned black.
A spark is said to have ignited the tinder beams on the tracks in Battersea, south London, resulting in services between Victoria and Brixton being suspended.
Network Rail is said to be monitoring a number of locations as the temperatures are set to stay high over the next few days.
Clearly the hot weather shows no signs of abating, with the country staring into the face of its first ever level four heatwave, which poses a serious risk to life and health.
The Met Office issued an extreme heat warning for England and Wales due to 'exceptionally high temperatures' set to batter the UK over the next couple of weeks.
They have signalled that the current heatwave poses a 'danger to life' not just limited to those who are vulnerable.
Rebekah Sherwin of the Met Office said they ran potential weather forecasts 'hundreds of times' to work out the most likely outcome.
She said: "Some models have been producing maximum temperatures in excess of 40C in parts of the UK over the coming weekend and beyond.
"At longer time scales temperature forecasts become less reliable, so whilst these figures can't be ruled out, they are still only a low probability.
"A number of weather scenarios are still possible and at the current time, mid- or perhaps high-30s are looking more likely."
People have been warned to stay hydrated and to try and cool themselves down, and to keep an eye on the wellbeing of more vulnerable friends and family who will be suffering more in the sweltering heat.
The heat will be strongest between 11am and 3pm, and as tempting as it might be to go and film tarmac melting on your street, this is the time to try to avoid being out in the glare of the sunshine.