A family were minding their own business when an enormous rat darted out from underneath their Christmas tree - leaving them scrambling about trying to catch the rodent.
The unbelievable footage was posted to TikTok by mum Caitlyn Free (@littlebluehouse_lbh), and it has people talking. Watch the chaotic scenes unfold below:
After spotting some movement inside the tree with the festive lights and decorations, the family went to investigate.
At this point, one of the family members whipped their phone out and proceeded to record.
The rat suddenly leaped from the bottom of the tree and tried to make a run for it - as family members in the background screamed.
However, the rodent got stopped in its tracks by the family's pet cat.
As it made a break across the living room and into the family's kitchen, the cat had a swipe at it.
Remarkably, the rat managed to escape the cat's clutches and headed back to the Christmas tree once more.
The cameraperson then zoomed into the tree and spotted the rat sitting on one of the branches.
The rodent might have thought he'd escaped, but the family had other ideas.
Next, the mum and dad are seen gearing up as if they are heading to battle, with the mum equipped with an air rifle.
Meanwhile, the dad grabbed a broomstick - he has really drawn the short straw there - and hilariously stood on top of a dresser for the higher ground.
The couple even put shoes on for protection, with the mum in thick leather boots and the dad with trainers on.
The dad is definitely playing the supporting role in this situation as he urged his partner to take the shot while standing on top of the dressing table.
In what is certainly a unique technique, the mum took her first shot at the rat but appeared to miss.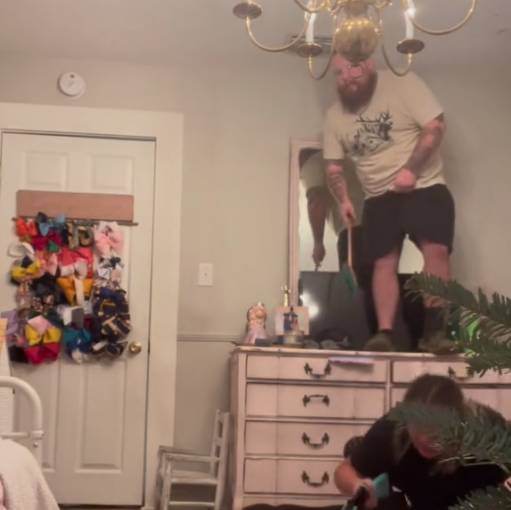 With a baby crying in the background, she took a second and hit the rat as the couple cheered - 'got him in his neck', the woman is heard shouting.
The video has gone viral on TikTok, with close over 4.7 million views and over 100k comments.
Many have commented on the chaotic scenes, one person said: "Love how she was taking care of business and he was on top of the dresser screaming."
And a second added: "You're so calm I'd be setting my house on fire."