Dad breaks down eye-watering amount he spent on trip to 'money printing machine' Disneyland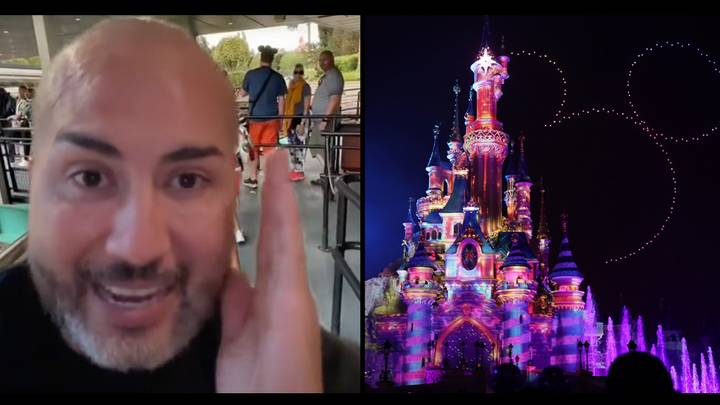 A stunned dad has admitted he's 'almost embarrassed' after he broke down how much money he spent on one family trip to Disneyland.
As an American, dad Mario Zelaya has two Disney theme parks to visit in his country, but last week he opened up about how much it cost him to take his family on a trip to a Disney park across the pond: Disneyland Paris.
Visiting the park is literally a dream come true for some people, but Mario sparked debate over whether it was really worth the money after he added up just how much he'd spent on the trip.
In a video shared on TikTok, the dad shared a breakdown of the prices and said: "I made a huge mistake, I went to Disneyland in Paris. I'm almost embarrassed at how much money I spent."
Mario went on to explain that the tickets alone cost him $1,200 (£940), asking: "Why the hell would I do that?"
Each of Mario's tickets set him back $120 (£95), but the dad decided to splash the cash even more when he upgraded himself and his family to premier passes.
The upgrade meant he added an extra $173 (£140) per person to his bill in exchange for the opportunity to fast-track their way through lines, rather than having to spend hours in queues.
"It's crazy how overflowing Disney is," Mario said. "It doesn't matter if it's in Paris, Orlando, or California, it's like this all the time."
Mario shared footage from his trip to prove just how long the queues were - even for what he called a 'crappy ride' - claiming some wait times lasted up to 'an hour and 15 minutes'.
Alongside the video, Mario wrote: "Here's the Disney rules: 1) Expect crazy long wait times 2) if you dont want to wait in line, expect a huge bill to upgrade to a Premier Pass. 3) if you decide to wait in line instead because the Premier pass doesn't cover ALL the rides, expect a huge bill regardless."
Mario personally expressed belief that the trip wasn't worth the cost, though he acknowledged that if it's 'your kid's lifelong dream' - or your own, for that matter - then you'd probably disagree.
His experience sparked debate among TikTok users, with one admitting they 'never understood the hype' for Disney.
Other users said getting fast-track passes were '100 percent worth it', while another shared their advice for making sure you make the most out of a trip.
"I went in July and managed to go on all the rides. I just made sure to go early to get on all the rides I wanted first," they said.