Aussie Researchers Declare There Is Such Thing As Too Much Coffee
There are some people out there who depend on coffee to function. Some need just one, others need it when they wake up, just before they start work, at lunch for a cheeky perk up and maybe one for the afternoon.
But it seems like there is such thing as too much, according to Australian researchers.
They surveyed more than 347,000 people to see whether their coffee habits meant they were at a greater risk of cardiovascular disease. It's no secret that caffeine raises your heart rate so researchers were worried that persistent coffee cups would ruin your ticker.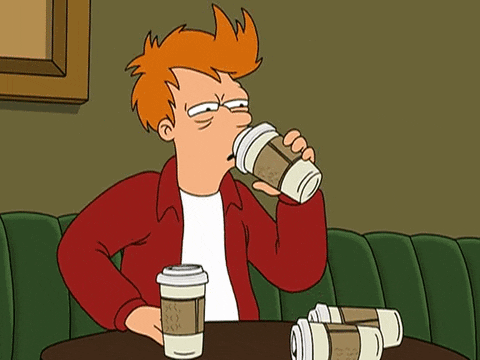 Image result for fry coffee

Professor Hyppönen said: "Most people would agree that if you drink a lot of coffee, you might feel jittery, irritable or perhaps even nauseous.
"That's because caffeine helps your body work faster and harder, but it is also likely to suggest that you may have reached your limit for the time being. We also know that risk of cardiovascular disease increases with high blood pressure, a known consequence of excess caffeine consumption."
One part of their research found that people have one of two types of genes that can process caffeine - one that performs well and the other not so much.
This is the reason why some people can down a shitload of coffee in a day without being that affected and others are bouncing off the walls for hours after a couple of sips.
Interestingly, it's the fast processors that are the ones in trouble.
Professor Hyppönen said: "In order to maintain a healthy heart and a healthy blood pressure, people must limit their coffees to fewer than six cups a day. Based on our data, six was the tipping point where caffeine started to negatively affect cardiovascular risk."
There have been plenty of studies that claim one, two, three, four etc cups a day is good for your health, but this seems like the first time researchers have told us that there's a limit to this goodness.
People who have more than six cups a day are 22 percent more likely to develop cardiovascular disease and people who didn't drink at all had an 11 percent higher risk.
So if your mate can go through coffee like nothing then make sure they're only knocking back six or less a day.
Featured Image Credit: PA
Topics: Community, Interesting, Coffee